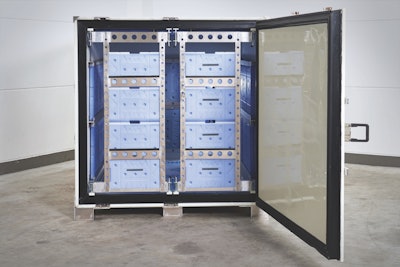 Part II of this story examined the role of global regulations and personalized therapies in World Courier's logistics strategy. In Part I, the company discussed its global logistics and supply chain strategies in an exclusive interview with Volker Kirchner, Director of Temperature Control Solutions at World Courier, and Michael Fleischer, Global Director Quality, Transport Division at World Courier, Germany.
HCP: What adjustments has World Courier made in recent years to accommodate developing biologic and combination product therapies, and what challenges do you and product manufacturers face to get such product shipments safely to the point of use?
Fleischer: With the increased globalization of supply chains and the emergence of high-value products like cell and gene therapies, there is a heightened demand for strict quality and temperature control measures to ensure product quality and integrity throughout long-distance deliveries.
Executing the logistics of cell and gene therapies, in particular, is a challenge like no other as the products involve living cells with extremely limited shelf life. We work with manufacturers early in the development stages to help them build scalable and reliable processes that support patient, provider and payer requirements and drive commercial success. Through our integrated logistics platform, we are driving innovation into the cell and gene therapy supply chain to ensure patients benefit from these life-changing therapies.
In March, we launched international personalized supply chain teams that support three specialty areas—all of which experienced double-digit growth—that include cell and gene therapy. The technical experts deliver a service tailored to specific requirements and, ultimately, connect patients with the vital treatments they need. We also opened four new offices in key markets in Asia and Europe, which enable us to build relationships with local customs and regulatory authorities and better position us to serve our customers' unique needs, such as the growing demand for temperature control solutions.
HCP: How does the company handle the challenges these products pose through the distribution chain?
Kirchner: Shipments often require the transport of very sensitive products between cities, countries or even continents. This challenge is exacerbated by uncontrollable factors such as extreme weather conditions, airline delays and lengthy customs clearance. Maintaining the product temperature range from the origin to the destination and, subsequently, proving that you have done so serve as critical challenges.
In order to reduce the exposure to adverse temperatures, it is important to mitigate the potential risk for certain scenarios. For example, we work with an airport ahead of time to reserve a refrigerated storage space. When faced with time-sensitive deadlines that require transport through extreme climates, we can alter the route or select a larger, more-insulated packaging solution that reduces the products' exposure to the conditions.
Our Cocoon packaging is qualified for 168 hours' performance at three temperature ranges. A Cocoon unit maintained its internal temperature throughout a 13-day delivery from Austria to Baghdad, Iraq, which included 10 days of storage in uncontrolled warehouse temperatures.
Additional factors have potentially damaging effects on biopharmaceuticals throughout shipment. Our monitoring products track and transmit the required metrics with precision, including ambient temperature, internal temperature, light, tilt, pressure, physical shock and geographic location. By monitoring the metrics, we can anticipate complications before they arise and dispatch an associate quickly to take a corrective action, whether that means replenishing a gel pack or simply replacing a monitor with a low battery.
HCP: With more product therapies requiring cold/frozen transportation, one of the challenges we're hearing pertains to label adherence to packaging. Is this an issue experienced by World Courier and/or its customers, and if so, how is the situation addressed?
Kirchner: In general, the ability of labels to adhere to outer packaging is not a common challenge. Historically, fiberboard (paperboard) boxes containing very cold goods such as frozen on dry ice were prone to becoming moist, especially in humid conditions. Also, paper labels could soften and lose adhesion from the surface.
However, even then, securing the labels by adding a layer of transparent tape over their surface was enough to ensure there would be no problems. As our packaging offerings have evolved over the years, paperboard boxes have largely been replaced by more modern options, such as our Cocoon containers or VIP Boxes, which use a robust, solid shell. These allow negligible interaction between internal and external temperatures.
Also, these surfaces are impervious to water, which means that labels won't lose their grip on soggy surfaces. Finally, in those situations where there is a risk that adverse weather conditions such as torrential rain, snow, or blistering sun could have a negative effect on labels, we will already have taken proactive measures to ensure that the entire packaging unit is protected continuously, as any environmental conditions that could negatively affect labels would be of equal concern to the packaging system as a whole.
Companies in this article