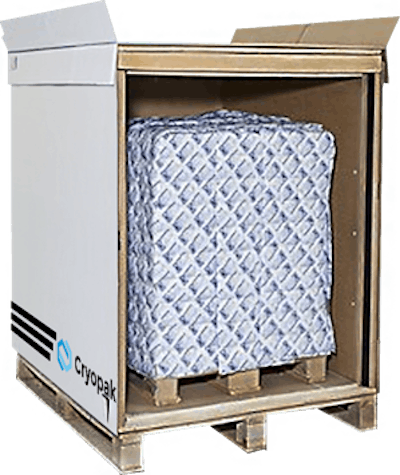 Cryopak is building on its large shipper series of pallet shippers and transporters by introducing the CryoArc brand. In addition to the existing EPS Pallet Shipper and EPS Pallet Transporter, the CryoArc line has expanded to include the:
CryoArc Pallet Shipper Lite
CryoArc PU Pallet Shipper PLUS PIR
CryoArc PU Pallet Transporter
These systems have been designed with one goal in mind – transporting products requiring temperature control packaging for up to 120 hours in a 2-8°C temperature range (other durations and temperature ranges available). These bulk pallet and shipping systems are reported to have been pre-qualified against some of the toughest industry standards to ensure high performance when shipping bulk temperature-sensitive materials.  The shippers are designed to be lightweight, easy to assemble, and supportive of heavy payloads.
Companies in this article