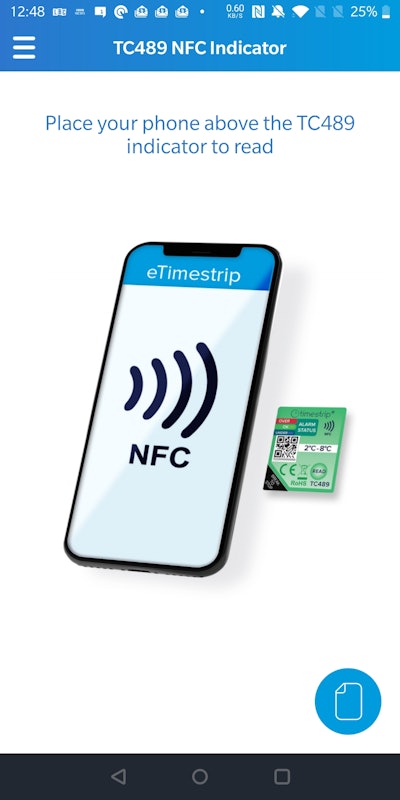 Timestrip, a developer of smart indicator technology, is launching a range with two electronic temperature indicators. They are designed to monitor the safe storage and transportation of a wide range of goods including pharmaceuticals, vaccines, healthcare, food produce, adhesives, and inks.
The eTimestrip Complete ('TC') indicators are meant for easy use and versatility and can be attached to products at unit, case, or pallet level. They should track breaches of temperature outside the designated range, helping manufacturers and logistics staff to safeguard product quality and meet regulations.
This Timestrip range comprises two indicators.
The TC489 is an intelligent device that is designed to monitor temperature data every minute with high accuracy. The key alert temperatures can be selected as standard e.g. 2-8ºC, or can be specified as bespoke across a wide temperature range as low as -30ºC or as high as 60ºC. The TC489 has upper and lower limit alarms and is meant to communicate wirelessly using near field communication (NFC) via a free app, creating a comprehensive data report that includes number of times limit exceeded, total time limit exceeded, and alarm status. Weighing six grams, TC489 should also provide a clear visual signal using built in LEDs.
The TC490 is a simpler device monitoring similar ranges with a 180 day service life, irreversible alarms, and is made to provide a cost effective system for monitoring a wide range of sensitive products.
Companies in this article