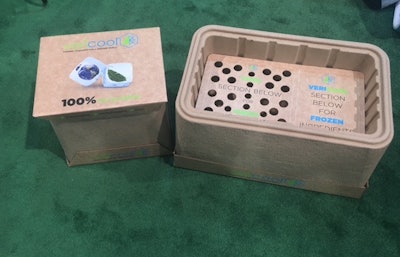 An unfortunate side effect of many advanced packaging and shipping systems is the toll they take on the environment. Many disposable products are constructed from EPS or plastic, and while they offer benefits in terms of patient safety and convenience, they end up in landfills after use, waiting out hundreds of years in biodegradation time.
Vericool is a California-based company seeking to change that with their "recyclapostable" coolers. Debuting at PACK EXPO/Healthcare Packaging EXPO, Vericooler III is composed of 100% recyclable molded plant fiber, with compostable insulation. The patent-pending coolers are customizable, and capable of handling dry ice and moisture without effects on structural integrity.
Vericoolers offer an alternative to EPS for pharma and life science products, maintaining temperature for medicines, vaccines and biological products up to 96-hours.
With the increase in food delivery services, they are also used for transportation of food kits and meal subscriptions, keeping meals within safe temperature ranges. A recent Rutgers study demonstrated that nearly 47% of 684 meal/food kit items ordered by researchers arrived with surface temperatures above 40 degrees, outside of the safe consumable range.
Edge loss in the coolers has been reduced by eliminating panels. This allows for substantially reduced coolant payload, which can lead to reduction in total cost despite slightly higher per-unit costs.
Visitors can check out the Vericooler at ongoing demos this week at N-640 and S-8403.