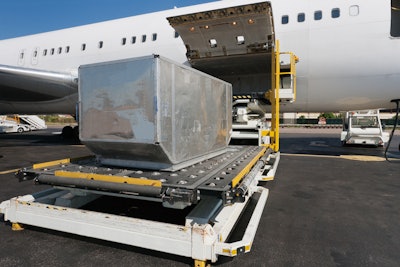 Packing sustained 185 mph winds gusting to 225 mph, potentially catastrophic Category 5 Hurricane Irma was barreling toward Florida just before this issue went to press, with Hurricane Jose roaring just behind. All of this in the wake of Hurricane Harvey's devastation.
Logistics efforts to address disasters like Hurricane Harvey are massive, impressive and inspiring. The Journal of Commerce's online logistics resource fact sheet provides ongoing Harvey updates regarding contributions from logistics companies and transportation providers, noting how people can contribute to charitable organizations to help those affected by the storm and flooding. (PMMI established a donation link and will match all funds donated to the American Red Cross in support of Hurricane Harvey Relief Fund up to $100,000.)
CannedWater4Kids, a 501c3 charity, and ink supplier INX Intl. announced on Sept. 7 that they teamed up to rush delivery of drinking water to help in Hurricane Harvey disaster relief efforts, sending a truckload of 52,800, 12-oz cans of fresh, purified water to a Red Cross distribution center near Houston.
An Aug. 25Freightways.com article noted, "For trucking companies forced to weather a natural disaster, such as a hurricane, the return to normal operations can take time. Equipment may have been moved out of the region as a precaution, roads may be blocked, flooded or otherwise damaged, and customer operations may not have resumed."
Hurricane Harvey efforts included the establishment of mobile pharmacies in ravaged areas in Texas and Louisiana to give people access to medications.
The logistics community serves as the tip of the spear in transporting potentially life-saving medicines and supplies to victims of natural disasters. Yet several other pieces complete today's lifescience logistics puzzle. In this story, we look at some of those factors, including temperature-sensitive supply chain considerations, home healthcare and e-commerce, market fragmentation and consolidation, and the role of technology, including the use of drones as a delivery option.
Consolidation and market fragmentation
A ResearchAndMarkets report, "Global Pharmaceutical Logistics Market 2017-2021," says consolidation represents the latest trend gaining momentum. It notes, "The market is highly fragmented with a large number of players. The fragmentation causes difficulties for big players to enter into some countries across the world. To break the entry barrier, the big players are accepting consolidation as a tool to enter into the market. More than an entry, consolidation helps the players to adopt modern technologies from the regional or small players and make them expand their market presence. Consolidation also supports the small vendors to attain profitability in the competitive market."
Home healthcare and e-commerce
Another trend in the pharmaceutical logistics market is the rising demand for home healthcare products. Contributing to this burgeoning home healthcare market, "is the growth of mail-order prescription deliveries to individual patients," says Michael Kuebler, Technical Director, Smithers Pira North America.
He says, "Health systems are looking to mail-order prescription services as a revenue generator to supplement network memberships. According to the American Journal of Healthcare Pharmacy, mail-order pharmaceutical deliveries made up 23% of total expenditures in 2016 [up 6.7% over the previous year with continued growth expected]. Through companies like Edgepark Medical and CCS Medical, for example, consumers are increasingly able to purchase medical supplies and devices to manage home procedures independently. These individually packaged and boxed items must take into account the same e-commerce packaging considerations that other consumer product manufacturers have followed for many years, with a few added steps."
Amazon has received considerable media attention recently for its growing logistics role. Asked about delivering lifescience products, Kuebler says, "According to their website, Amazon already offers some medical supplies online. However, we don't have any insight into their future strategy for selling pharmaceuticals or medical devices through their site."
Temperature-sensitive distribution
More complex biologic and combination product-based therapies often require precise temperature and humidity control throughout the supply chain. Here, Kuebler notes, "Typically, if these conditions are required, temperature cycling or cold chain testing is required. Testing needs to validate that a controlled package can maintain the product at the desired temperature (usually 2°C to 8°C) throughout the typical supply chain. ISTA 7E is the most common test for cold chain evaluations and includes both winter and summer conditioning cycles to replicate actual, real-world conditions."
Innovation in pharmaceutical packaging and technology in cold chain logistics was identified as one of the top three emerging trends driving the pharmaceutical logistics market by Technavio transportation and research analysts. The other two: Huge scope in emerging countries and shift toward biological drugs, and the adoption of automated storage and retrieval systems. Not surprisingly, sustainability was also seen as an area of importance.
"Reusable containers are being increasingly used in pharmaceutical logistics to reduce waste," says Shakti Jhakar, a lead analyst at Technavio for logistics research. "Some companies are encouraging the use of green packaging materials. For instance, World Courier launched a new packaging solution for pallet-sized shipments known as Cocoon in 2016. This packaging will reduce the transportation costs and maintain a temperature to increase the shelf life of drugs and medicines by 40%, as compared with other products."
Jhakar adds, "The cold storage market in emerging economies, such as India and China, is still in its developing phase. However, certain challenges faced by the cold chain vendors in the emerging economies, such as the lack of proper infrastructure, presence of minimal logistic support, lack of proper warehousing facilities, lack of skilled workers, and limited presence of service providers, have led to a substantial wastage of pharmaceutical products in these countries." Technavio points out, "Proper cold storage facilities and cold chain logistics can reduce pharmaceutical drug wastage and health-related issues in these emerging economies. There has also been a continual growth in the organized retail sector in these regions, which has increased the demand for cold chain logistics facilities. The market is witnessing dynamic growth in developing nations, especially in China, India and Singapore."
The role of drones
Expect the use of drones to grow as a delivery option within lifescience logistics. "While this is certainly an idea for last-mile delivery in urban and suburban areas going forward, there are still many hurdles to pass before drones could be used in a large way," Kuebler believes. "FAA regulations, in addition to security, weather, and other considerations, will need to be taken into account before drone usage can be implemented. Once used on a larger scale, however, it will most likely require a different set of testing requirements to account for potential large drops or impacts.
"Drone delivery is certainly a viable option for remote delivery. Humanitarian organizations have been using helicopters and aircraft for many years, and drones more recently, to deliver critical medical supplies to remote locations. However, the packaging used for these deliveries must be prepared to face and protect fragile supplies from a huge variety of harsh, unpredictable conditions, and further developments will likely be necessary if deliveries will be traveling through the elements via drone rather than safely closed in a cargo hold," Kuebler asserts.
Quiqui Drones is working with pharmacies for drug deliveries in a San-Francisco-based pilot program. Pronounced "quicky," the company focuses on drug store items because they present, "the most economically viable option with the most consumer pain. Now, it's possible to forgo all of the pain of dealing with pharmacies and have your medication arrive via drone."
Amazon's PrimeAir made its first drone delivery in the U.K. in December 2016, with its first delivery (of sunscreen) in the U.S. earlier this year.
Meanwhile, an Aug. 24 Associated Press story noted, "Tanzania's government is working with U.S. logistics company Zipline to launch what they call the world's largest drone delivery service for emergency medical supplies."
Companies in this article