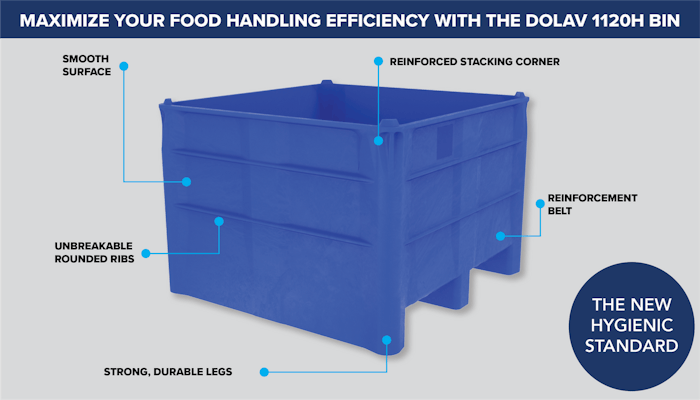 Decade Products–daughter company to Cascade Engineering and Dolav Plastic Products–introduces its DOLAV 1120H bin designed as a hygienic, one-piece, fixed-wall bin with molded-in integrated runners. Engineered from impact-resistant HDPE structural foam, these bins are made to be durable but lightweight for use in light and heavy food processing, pharmaceutical, and industrial environments.
The bin has a smooth surface for easier cleaning and drying. The hygienic design means that there should not be any cavities or dirt traps where unwanted material can get stuck.
It has a 2-way lift entry, is reusable and recyclable and available in multiple colors. The Dolav 1120H is designed to be corrosion- and UV-resistant, as well as heat and cold-resistant (0° to 140° F). The bin has been USDA-approved food safe.
Visit the company's PACK EXPO Connects showroom to see more products. Explore PACK EXPO Connects for more sustainable
Companies in this article