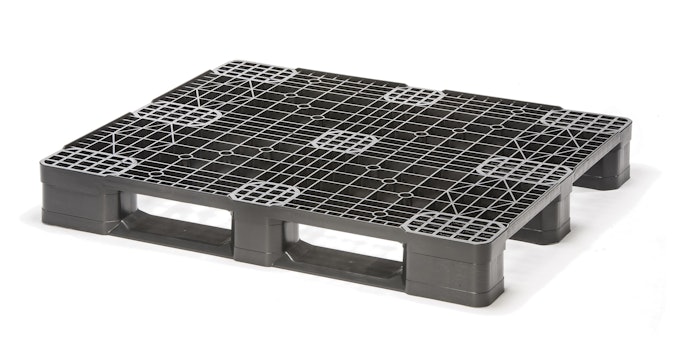 The Eco i5.1 pallet has been engineered to offer high performance at low cost, accepting dynamic loads up to 3,300 pounds and racking loads of 2,200 pounds – with a net weight of only 31 pounds! The Eco i5.1 is ideal for closed loops, distribution, production areas and exports across all industry sectors. The open deck, with flow through block design, ensures effective cleaning and quick drying – either manually or through automated washers.
The CPP 100 (Nest US1.1) is a nestable and extremely light weight pallet. The pallet weighs 11 pounds, which makes it the lightest 48 x 40 inch pallet in the company's portfolio. It is excellently suited for one-way shipping and air cargo. Its ease of handling translates into savings such as reduced workman's comp claims and improved safety.
With its extremely low nesting-height of only 1.2" the pallet saves freight-costs and storing capacities. The nesting ratio has been improved by 25 percent: a 53' trailer can now hold 2,340 pallets, which is about 10 percent better than other plastic pallets on the market.
Companies in this article