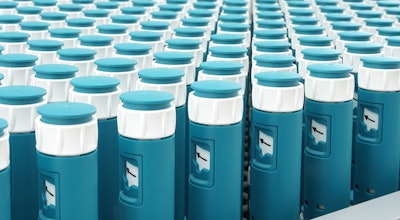 This content was written and submitted by the supplier. It has only been modified to comply with this publication's space and style.
OPTIMA automation GmbH, which operated under the name
R+E Automation Technology GmbH until July, will be at
COMPAMED. At this top event for the medical technology
industry, the company from Fellbach will be providing
information about its new complete solution for manufacturing
and packaging blood collection tubes, as well as assembly
solutions for injectors and syringes.
Companies from the medical technology and pharmaceuticals
industries that are looking for equipment for sophisticated
processes will find what they need at Optima automation's booth:
With the OPTIMA BCT-200 and the OPTIMA BCA-200, Optima
automation offers a complete solution for assembling and
packaging blood collection tubes, both with and without vacuums.
The machine can therefore dispense all common additives, such as
gel, EDTA.K2, EDTA.K3, lithium herapin, trisodium citrate, and
many more. The system stands out with its modular design and can
be extended with further stations if necessary. It covers every
required process step all the way to packaging, in polystyrene trays,
for example. The final product can be assembled using the OPTIMA
BCT-200 line. The OPTIMA BCA-200 is a machine that attaches
caps for blood collection tubes. Optima Automation has all of the
expertise needed for the entire process available in-house, as well
as a laboratory that it can use to create customer samples.
All process functions for assembling injectors
Optima Automation's portfolio covers not only this application field
but also auto-injector and pen injector assembly. Optima
Sutomation's range of machine solutions for pen injectors and autoinjectors includes both semi-automatic machines with manual
loading and fully automatic machines. For example, the OPTIMA
FPA for assembling pen injectors, as well as clicking things into
place or adhering them to one another. It is also possible to inspect
the needle guards of pre-filled syringes, as well as the "priming
process" for pen injectors, if necessary. As part of the Optima
Group, Optima Automation can provide all solutions "turnkey," from
assembling syringes to filling and finished products.
Lots of experience in implementing complex projects
Optima Automation has even mastered the assembly of syringes
made of glass and plastics, cannula assembly, and IV set
assembly. The company has many years of experience in supplying
and assembling complicated components and both optically and
mechanically monitoring all assembly steps. It continually develops
all of its solutions in close coordination with its customers and
according to individual requirements – from the project idea to
commissioning and service. "Finding solutions to complex and
challenging tasks while taking customer-specific demands into
consideration is one of our strengths," says Sales Director Eugen
Wanner.
In addition to Optima Automation, Optima Life Science will
represent the Optima Group at COMPAMED.
Further information is available at www.optimapackaging.com/automation.
Optima Automation at COMPAMED: October 18 to 21, 2019,
Hall 8A, booth no.: J13