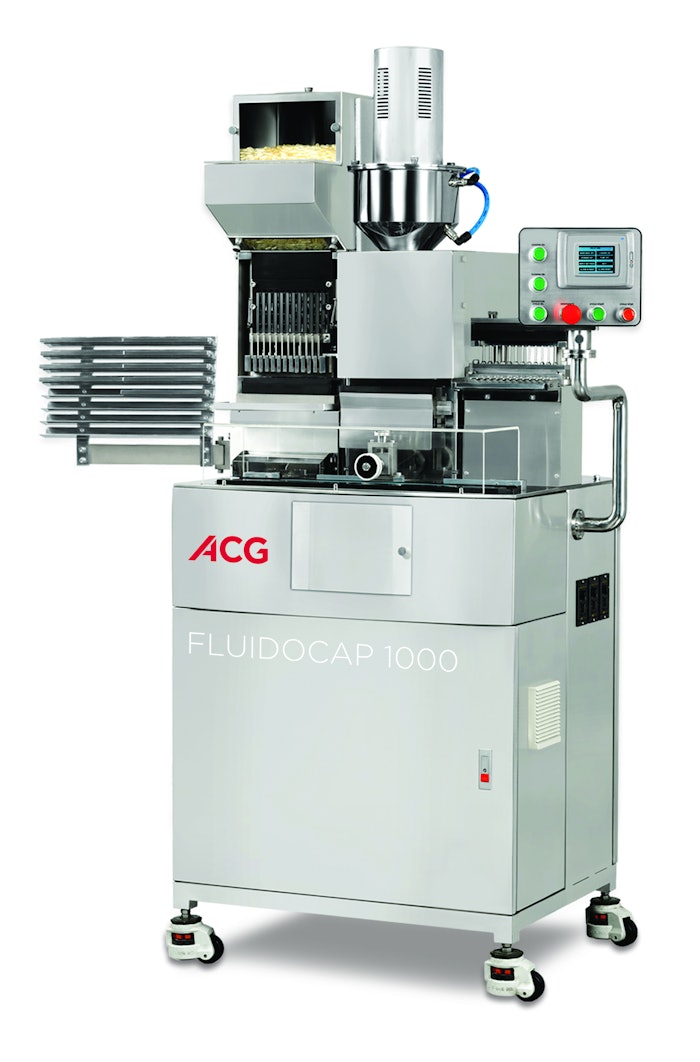 ACG Group, the only supplier in the world offering end-to-end manufacturing solutions for the pharmaceutical and nutraceutical industry, showcased its production capabilities in the burgeoning medical marijuana sector at the Lift & Co. Cannabis Show, June 6-9 in Toronto. As a longstanding supplier to the global pharmaceutical industry, ACG featured its prowess in producing liquid-filled capsules, a growing niche in the cannabis market as products incorporating CBD and THC are considered for pain relief applications in both humans and pets.
For companies with medical cannabis products, ACG can couple high-speed encapsulation equipment with so broad an array of capsules, including vegetarian capsules and those designed specifically for liquid filling.
From an equipment standpoint, ACG's capabilities in liquid cannabis capsule production are anchored by two members of its well-regarded Fluidocap Series of liquid capsule fillers.
For R&D and scale-up or production activities, the company's Fluidocap 1000 is a semi-automatic machine that integrates filling, closing and band sealing processes in one compact and robust unit.
For market-ready operations, ACG offers the Fluidocap 70, a fully automatic capsule filler that can produce up to 70,000 capsules per hour.
Ideal for cannabis-based liquids – which typically have an oily consistency – the Fluidocap 70 is ideal for filling liquids of various characteristics including free flow, pastes, suspensions, thixotropics, and hot melts. It also can handle a broad range of formulation viscosity (10 to 80,000cps). Both Fluidocap 1000 and Fluidocap 70 can handle HGC and HPMC capsules from size 00 to 4.
For post-fill sealing, the Fluidocap 70 is paired with ACG's ProSeal Capsule Bander-- Proseal 70 with very low changeover time, efficient system of loading, orientation and drying. The output of Proseal 70 is also 70,000 capsules/hr.
ACG also has encapsulation capabilities that allows filling of multiple dosage combinations such as powders, pellets, tablets, micro tablets, softgel, and capsule-in-capsule. The Capsule Checkweigher is designed for the precise, automatic, and continuous weighing of every hard capsule in empty, filled or partially filled states.