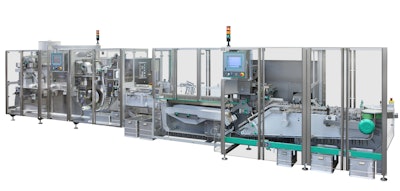 Machines exhibited
Innovative, ergonomic, designed to be installed in rooms with different class, and to save time and costs. The integrated robotized blister line Integra 320 is a mix of innovation of the best Italian technology. The new machine pitch control system, the new cartoning section and the innovative carton opening and product insertion system contribute to boosting production performance up to 320 blisters and more than 260 cartons per minute. All this is incorporated in a very small footprint, thanks to the integration of the blister thermoforming and carton packaging phases in an compact line. A three-axes Robocombi with sucker pick-up head, patented by Marchesini, connects the two stations and minimises size change-over operations. The units are no longer made up of several single parts but of integrated blocks, which are replaced in just one go.

Strong points of Integra 320 blister packaging line:
Designed to be installed in separate rooms;
Innovative machine pitch control system;
Single block size change-over, which is simpler and quicker and cuts down on mechanical adjustments;
The balcony design of the line simplifies cleaning work and fully preserves the integrity of the products. It also offers an excellent view of the individual processes thanks to larger and transparent guards. The whole set-up complies with GMP standards;
Extensive range of product infeed systems with independent drives that follow the movement of the film. All the parts have quick-lock couplings to ensure speedy size change-over operations and installation accuracy;
New dust extraction system with separation of small chips;
Flat and continuous motion sealing table with film tracking to seal even at low temperatures;
Even more efficient perforation and coding station with accurate waste management in special separate bins;
Direct connection to Robocombi;
New cartoning section and innovative carton opening and product insertion system to ensure high production performance: over 260 cartons per minute;
Product insertion unit with pushers equipped with counter-pushers and independent drives.

All the Marchesini blister lines are assembled in the Blister & Farcon Division in Carpi (Modena). This smart industrial factory - inaugurated in October 2016 - has become the biggest production hub of thermoforming machinery in Italy, with its 15,000 square meters and investment of 14 million Euro.

Carpi's Blister & Farcon Division has been built using exclusively "Made in Italy" products. It exploits renewable energy sources to minimise harmful emissions and covers 40% of its own energy needs. Photovoltaic panels provide electricity. The heat and energy of machinery is recycled and converted into heat and hot water, thus ensuring a completely emission-free heating system.

The other machine on show at FCE Pharma is the TrackPack, a new all-in-one solution for serialization, Tamper-evident and aggregation needs. It combines the labeller BL A415 and the case packer PS 300. The outcome is a very compact machine - just 3.5 metres long and 2.3 metres wide - and very user-friendly, doing away with many manual operations.

TrackPack is incredibly versatile thanks to the possibility to mount either Tamper-evident heads to apply self-adhesive tamperproof seals on the closure corners of the carton or labelling heads.

This monobloc has the same conveyor belt as the BL A415, plus a patented "timing" device that sets the cartons apart correctly on the adjustable toothed slip-proof belts.

TrackPack is able to serialize and group every kind of box and carton for both pharmaceutical and cosmetic industries, at a production rate of 120 cartons and 4 cases/minute.