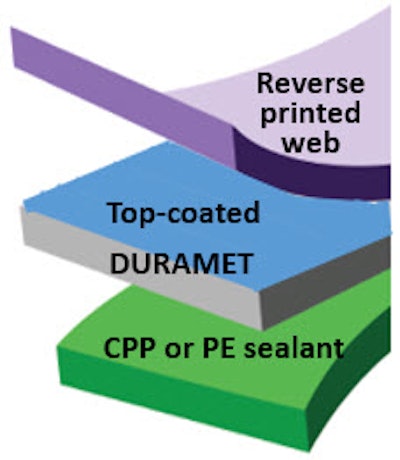 There has been growing interest in the converting industry to find foil replacement alternatives. Recent developments in the US Department of Commerce investigation on Chinese aluminum foil imports have resulted in preliminary antidumping duties ranging from 96% to 162%, on top of preliminary countervailing duties in the range of 16% to 81%. The aluminum foil market has been shaken and converters are looking for new products to maintain or improve performance in their laminated structures.
Celplast Metallized Products offers several metallized film grades suitable to replace aluminum foil, providing outstanding barrier properties, better impact and puncture-resistance as well as potential waste reduction for demanding applications.
DURAMET®is the newest development in ultra-high barrier metallized films.A protective top-coating for scratch-resistance and improved Gelbo-flex performance, helps to maintain barrier in laminated structures as the package travels through the supply chain. This is critical in the growing e-commerce space and consumers' expectations on product appearance and performance.
DURAMET expands Ceplast's foil replacement portfolio that today includes films such as FOILMET®, and FOILMET® PLUS. These films offer excellent WVTR and OTR barrier values and success in many foil replacement applications.
DURAMET®, FOILMET®, FOILMET® PLUS films also allow converters to eliminate layers and reduce material usage in existing products, contributing to CPGs sustainability goals.
Companies in this article