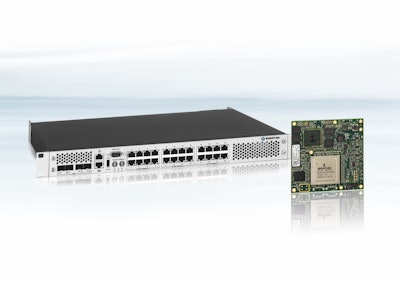 Kontron, a global provider of Embedded Computing Technology (ECT), has released a new high-end Rugged Ethernet Switch (RES) in a 19-in. 1U housing and two cutting-edge, fully managed Ethernet Switch Core Modules (ESC).
The RES2404-PTP switch as well as the ESC1600-PTP and ESC2404-PTP modules expand Kontron's portfolio of rugged switching devices for harsh environmental conditions with Precision Time Protocol (PTP)-enabled solutions. The PTP protocol for the precise synchronization of clocks throughout a computer network in accordance with the IEE 1588 standard is important for decentralized systems in automation technology.
The Kontron RES2404 is designed as a 19-in. 1U Ethernet switch for industrial and military applications. The RES2404 can be monitored remotely via SNMP (Simple Network Management Protocol), command line or web interface. The L2/L3 switch with IPv6 support is available in two versions. The RES2404-PTP features 24 Gigabit Ethernet (1 GbE) and four 10 Gigabit Ethernet Ports (10 GbE), the RES2404-PTP-POE comes with additional 24 Power-over-Ethernet (PoE) ports with up to 150 watts in total, and a 30 W maximum per single port. Its mechanical design features are suitable for use in production facilities. The RES2404 is highly resistant to shocks and vibrations, and suitable for use in a wide temperature range from -20°C to +50°C.
The ESC1600-PTP and ESC2404-PTP L2/L3 1/10GB Ethernet Switch Core modules form the basis for robust high-performance Ethernet switching devices. Thanks to their scalable number of interfaces, both boards provide a rich and versatile feature set on a custom base board design that help reduce development cost and enable fast lead times for customer specific devices.
Both modules support the IEE1588v2 PTP standard for time-sensitive applications. The Kontron ESC1600-PTP and ESC2404-PTP feature up to four 10GbE and 24 1GbE ports, with the option of up to 32 1GbE ports on special request. Both modules are rugged, with high tolerance against shocks and vibrations, and are fully operational in temperature ranges from -40°C to +80°C. Remote management is supported via SNMP, command line and web interface.
Companies in this article