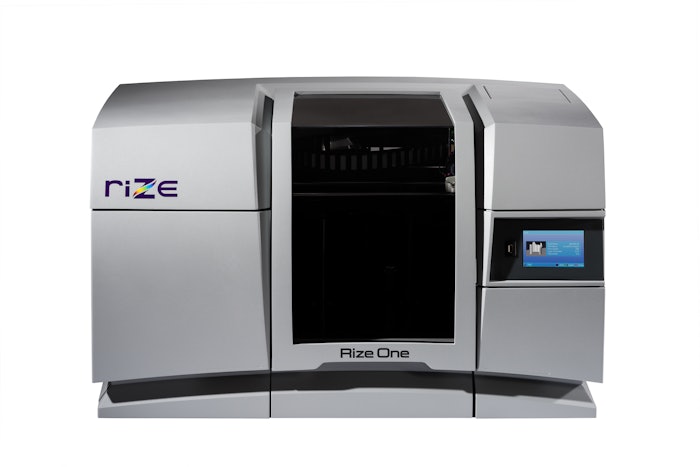 Rize Inc. announces a zero post-processing 3D printer, Rize One, that reduces turnaround time by 50%, cuts costs, improves part strength and eliminates the need for materials, equipment, facilities and mess that have been obstacles to expanding usage of desktop machines out of dedicated lab environments.
It will be available later this year.
For years, 3D printing technology has forced designers and engineers to make sacrifices around time and resources to turn a printed part into a usable one. With Rize One, featuring a patented Augmented Polymer Deposition (APD™) process and RiziumÔ One, Rize's unique engineering- and medical-grade thermoplastic filament, users simply release a 3D printed part from its support structure cleanly, safely and in seconds with bare hands. No filing or sanding are required.
"Post-processing has been 3D printing's dirty little secret, as engineers and additive manufacturing lab managers wrestled with the reality that post-processing parts after 3D printing often doubled the total process time; added substantial costs; and prevented 3D printers from the desktop," says Frank Marangell, President and CEO of Rize and former president of Objet North America.
Rize One eliminates those sacrifices, while offering designers and engineers to deliver prototypes and on-demand finished parts faster and with stronger material – than before.
For those who depend upon prototyping to fuel innovation, or who see the potential for on-demand production parts, Rize One can deliver an updated prototype for a critical meeting the next morning, turn an idea sent to an overseas desktop for evaluation that same day, or produce a custom part printed and installed while a customer waits, or in time to keep an assembly line humming.
Rize One was designed to be used primarily by engineers and product designers across a range of industrial and commercial applications, including prototyping for proof of concept and form, fit and functional testing in real-world conditions, end-use production parts and tooling, fixtures and jigs for manufacturing. Users will experience improved designs, increased accuracy of production, reduced defects during manufacturing, cost reduction, streamlined operations and faster time to market.
The technology powering Rize One also is adaptable enough to allow for the use of other materials that have various part properties—creating a wider spectrum of applications.
Companies in this article