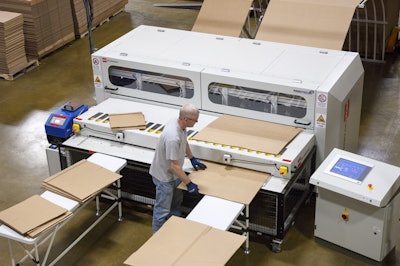 Box On Demand has entered into a strategic partnership agreement with Sealed Air Corporation. This partnership allows Sealed Air to provide Box On Demand equipment to their customers in the U.S., Canada and Mexico.
"Sealed Air has a long history of providing innovative and creative solutions related to product protection and packaging automation. The addition of Box On Demand to their portfolio is a natural fit, and positions us to deliver more value to our customers across multiple industries," said Greg Magnell, President of Box On Demand.
"This partnership further strengthens our leading portfolio of right-sized solutions," said Kenneth P. Chrisman, President of Sealed Air's Product Care Division. "The capabilities of Box On Demand are a powerful complement to the automated system technology pioneered by B+ Equipment – including I-Pack®, e-Cube®, and Ultipack® – which became a part of the Sealed Air family in 2015, as well as our own internally developed platforms including the FloWrap™ Automated Mailer and PriorityPak®."
"Together, these solutions will empower our customers to reduce waste, freight cost, warehousing space, and carbon emissions while ensuring the right level of protection for every order, every time," says Chrisman. "We are in an era where dimensional weight pricing is putting additional strain on e-commerce retailers, 90% of whom have a wide array of products and order configurations that demand a higher degree of box customization. This partnership allows us to create the perfect package for any combination of SKUs – cut to fit and optimized for minimum packaging and maximum protection."
Box On Demand is the North American partner of Panotec (headquartered in Treviso, Italy) and is a leading provider of 3-dimensional equipment platforms and fanfold corrugated for on-demand, right-sized box creation.
Companies in this article