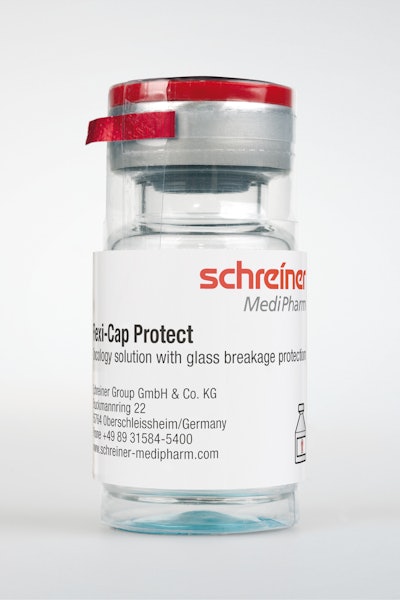 As some drugs become more potent (and more costly per unit volume), the hazards from exposure for healthcare personnel and the costs of damaged products can increase dramatically. This is particularly true in the case of cytostatic drugs. The highly potent substances combat cancer cells by inhibiting cell growth and multiplication, but they're also extremely toxic for healthy cells.
Primary packaging must be able to protect pharmacists (and other personnel that handle bottles post-filling) from surface contamination and broken glass. Schreiner MediPharm's new packaging innovation, recently launched in Europe at Pharmapack, is helping to protect the people handling highly toxic oncology products, and manufacturers' bottom lines.
The Flexi-Cap Protect concept consists of three parts to help protect glass containers against breakage, surface contamination and tampering: a top cap, a base cap, and label. The following are four of the ways that the system is helping manufacturers meet safety and regulatory needs.
Breakage Protection:The top cap and base cap provide breakage protection, and the base cap can include an air gap for additional protection. The label can also be integrated with foam backing for advanced lateral bottle protection.

Tamper Verification: The system provides irreversible first-opening indication once opened.

Track & Trace: The top cap can be printed with codes or feature an integrated NFC chip for digital tracking.

Exposure Protection: Healthcare personnel can access the label without compromising the surface protection. Customizable labels are available for a range of scenarios, including peel-off, multi-page labels in different languages. The top cap can also be printed with cautionary statements.
​While shrink-wrap might be suitable for easy surface protection, it is not appropriate for pharmaceuticals sensitive to heat. All three parts of the Flexi-Cap Protect system are applied without heat to uphold product quality.
The Flexi-Cap Protect is a safeguard for other drugs as well. Andreas Hofenauer, Manager of Innovative Customer Solutions Healthcare at Schreiner MediPharm, explains that the concept is, "an effective anti-breakage and security solution for cytostatics, but also for other heat-sensitive drugs like biotechs and biosimilars, or human blood-based drugs." He adds, "It can be flexibly adapted to different container sizes and formats, while having a minimal impact on the packaging size, thus saving storage and logistics costs."
Companies in this article