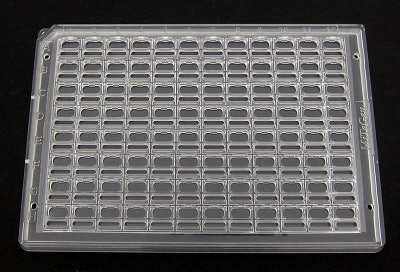 MiTeGen LLC has launched a crystallization microplate made ofTopas®cyclic olefin copolymer (COC) from Topas Advanced Polymers. MiTeGen's newIn-Situ-1™crystallization plate uses TopasCOC for its excellent moisture vapor resistance and X-ray transparency.
MiTeGen'sIn-Situ-1crystallization plate (an SBS standard, 96-well microplate) enables X-ray crystallography researchers, who study the atomic-level structures of biological samples, to easily grow and screen crystals of their targets. The advanced features of the low-profile plates, many of which have never before been seen in a crystallization plate, allow for samples to be easily grown with more reproducible conditions and sub-sequentially studied via X-ray diffractionin situ.This means that researchers can now learn about the inherent quality of their crystal samples without having tomanipulate or manually retrieve them, which can often cause undesired changes or damage to the samples.
TopasCOC's versatility and advanced processability enables MiTeGen to combine an injection-molded COC frame with a thin extruded COC film to generate a two-piece system with the performance benefits of both parts. The molded rigid frame (128 mm by 85 mm) allows for physical features such as ledges and channels that provide consistent results from experiment to experiment. The thin (100-micron thick) film bottom, which is ultrasonically welded to the rigid frame, provides a surface for crystal growth drops to be dispensed and easily analyzed over a broad spectrum from visible light to X-rays.
The high-flow characteristics of TopasCOC enable extensive detail to be designed into theIn-Situ-1 crystallization plate. Well counts are maximized, flow channels are incorporated, and analyses are optimized. Due to its ultra-high purity, TopasCOC also has low leachables and extractables, resulting in reliable and repeatable results. The inert nature of the material prevents interference with reactions and analyses. Other important features include optical clarity (92%) along with excellent UV transparency and low birefringence.
Companies in this article