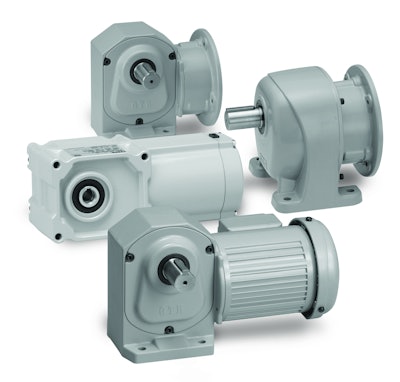 Brother Gearmotors offers a wide range of reliable, sub-fractional AC gearmotors and reducers for the packaging, food and beverage, and unit-handling industries.
Gearmotors are compact in size, energy efficient, and sealed for life.Each model comes with a long-lasting protective paint coating whose electrostatic application ensures a consistently tough, chemically resistant coating designed to withstand harsh production environments. All gearmotors carry a high-grade grease standard, which means they are lubricated for the life of the product, helping to eliminate costly downtime for lubrication changes.
Brother Gearmotors offers new bore sizes that open up a broader potential customer base for the company's gearmotors, which are manufactured on state-of-the-art machinery.
This summer, Brother Gearmotors moved into a new manufacturing facility based in Bartlett, TN.The modernized assembling facility—both ISO 9001:2008 and ISO 14001:2001-certified—allows Brother Gearmotors to shrink lead times for customer orders to an estimated three days.On-site technology makes a broader product mix available to North American customers, including 16 different gear ratios and six voltage options. The facility will be a North American complement to the primary gearmotor factory, which has produced more than 10 million units during its 40-year history.
Companies in this article