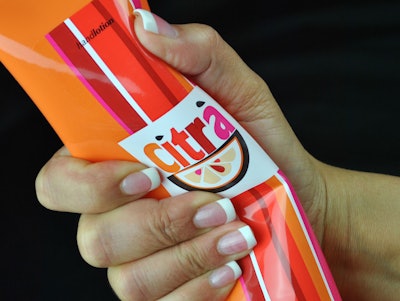 Mactac® Performance Adhesives Group's latest adhesive technology is featured on its squeezable films and polypropylene products. MACtac MP880 adhesive is a clear, permanent acrylic with excellent tack and adhesion for film labeling applications.
A next-generation MACtac MP238 adhesive, Mactac MP880 adhesive provides converters with performance features for a variety of surfaces. Most notably, it offers excellent non-water whitening properties, which are suitable for products that need to maintain clarity even with extended exposure to water. This adhesive also provides extended open time for the clean removability of misapplied labels, allowing the container to be re-labeled while still offering excellent tack for long-lasting shelf appeal.
Available for use with clear and white squeezable films as well as clear, white, and chrome polypropylene products, MACtac MP880 was developed specifically for labeling applications with films such as Vivid Ice™ and Vivid Squeeze films for full-squeeze, semi-squeeze, and rigid container labeling.
Companies in this article