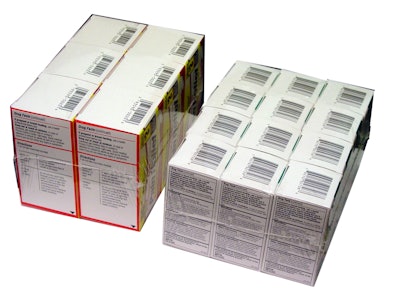 Intertape Polymer Group®Inc. introduces its newest high-performance, cross-linked polyolefin shrink film called ExlfilmPlus® GPL (Global Performance Lite). In the pharmaceutical industry, GPL is commonly used to wrap individual retail medication packages as well as unitize multipacks for shipment and retail sale. The film is FDA-compliant for both indirect and direct contact of consumable product.
ExlfilmPlus GPL is a thin-gauge, high-yield film that offers a cost-saving alternative to standard, heavier-gauge films without sacrificing performance and protection, according to the vendor. The film exhibits exceptional machinability and high-speed processing capabilities while providing customers with a visually appealing retail package.
ExlfilmPlus GPL is suitable for any customer looking to protect or unitize products in a crystal clear, thin-gauge film. The film is available in center-fold or single-wound put-ups, preperforated, and extended length rolls, which offer additional savings.
Companies in this article