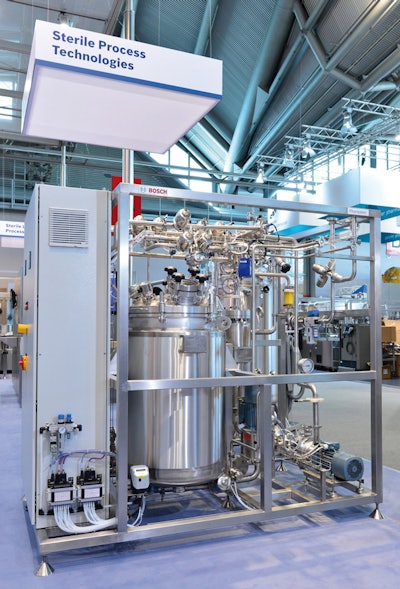 This cleaning and sterilization process is especially important to ensure highest product quality for sterile pharmaceuticals. The modular construction of this system is designed to meet virtually all customer requirements quickly and easily. The basic configuration includes a CIP tank to mix the necessary cleaning media, a flow pump, lines for PW (purified water), WFI (water for injection), clean steam, compressed air, and the required measurement, control and valve systems.

Modular design for customer-specific configurations

The system can be quickly and easily configured with add-on modules to meet different customer specifications. In addition to a self-priming return pump, a pharmaceutical-compatible heat exchanger can be integrated into the existing CIP frame. The temperature of the cleaning media is controlled via steam or electric heat exchangers. Various dosing stations for detergent concentrates and sterile air filter units used for blowing out and drying the system can be integrated.

Cleaning efficiency is regulated by changing specific parameters. Time, temperature, concentration of the cleaning solutions and flow rate must be perfectly matched to achieve optimum results. The Pharmatec CIP system operates at temperatures up to 90° C with a flow rate ranging from 500 to 5,000 liters/hr. Process steps running in parallel ensure maximum cleaning quality with short cycles.
Companies in this article