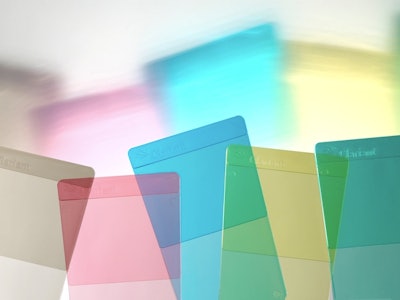 The new Clariant color concentrates and pre-color compounds are part of the MEVOPUR® family of products developed and manufactured for customers whose applications call for risk control, consistency of product and regulatory compliance. At Pharmapack North America in Philadelphia, PA, Clariant is exhibiting in booth F714 and TOPAS is in booth F826.

"TOPAS COC has become the material of choice for pharmaceutical packaging and medical devices," says Barbara Canale, healthcare market development for TOPAS Advanced Polymers. "It offers high shine even in thick sections and, unlike resins such as polycarbonate and polyester, has a non-reactive surface. It is also free of bisphenol-A and estrogen-active components. Increasingly, our customers want to add color to their products and Clariant Masterbatches has been working closely with us to develop bright, clear colors that preserve the purity of our TOPAS polymers."

The colors presented at Pharmapack North America represent both a standard palette and custom formulations. All were manufactured under carefully controlled conditions at the Clariant facility in Lewiston, Maine, one of three global ISO13485-certified plants dedicated to medical and pharmaceutical applications. The Lewiston plant, along with the other two centers of competence in Singapore and Malmo, Sweden, use only raw materials that have been biologically evaluated against USP parts 87 and 88 (Class VI devices) and/or the international standard ISO10993. Segregated manufacturing lines to reduce the risk of cross contamination, and segregated storage and change-control processes ensure consistency.

"Color is a factor of growing importance in medical and pharmaceutical applications," notes Carmella Fitzgibbons, who heads the Clariant Masterbatches Medical & Pharmaceutical Segment in North America. "Color differentiates products in a retail environment and aids in identification for safety purposes. As drug-delivery devices - insulin pens and pumps, for instance - are used with increasing frequency outside of a hospital setting, these devices must be attractive as well as convenient and functional. Medical products, therefore, become much like any other consumer product, with color and other visual elements becoming increasingly important in design."

The new colors for TOPAS COC polymers were developed to work with the inherent transparency of the material. No dyes are used, eliminating the risk of color migrating to the surface of molded products. The medical-grade pigments allow Clariant to produce a wide range of standard and custom colors to meet specific customer requirements.

MEVOPUR-brand products and Clariant's global team of medical application specialists help to minimize risk at every stage of design, production and approval. Professionals from R&D, production, sales and marketing, and customer service, work closely with individual customers from the concept stage through to production to pre-test materials and assess risk in order to develop compliant, targeted color and functionality for each application. Documentation, in line with FDA guidelines, covers product safety and compliance and provides information on potential leachables and extractables.

Besides color masterbatches, the MEVOPUR product family includes pre-colored compounds ready for processing and performance-enhancing additive solutions. These include the latest surface engineering developments, providing functions such as laser marking, friction-reducing solutions, and radiopacity used for the manufacture of components that can be visualized when using X-ray procedures.
Companies in this article