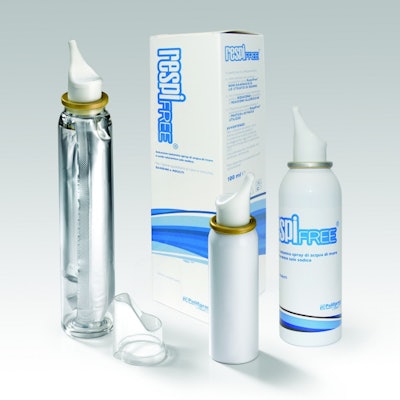 Consumers and patients alike are looking into innovative packaging solutions capable of dispensing products safely, effectively, and conveniently. BOVs meet these standards.

Sunscreens, sunless tanners, and shaving gels were among the first product categories to adopt dual-compartment valves. Toothpastes came at a later stage and nowadays several different active pharmaceutical ingredients can be found using such an airless system. Examples of these are anti-inflammatories and pain relievers, anti-mycotics and athlete's foot products, skin-healing products, wart-burning products, and anti-cellulitis products.

With BOV technology, formulations can be dispensed in any form (liquid, gel, cream, or highly viscous substances) and in any position (inverted or upright). BOVs preserve the product from external contamination and keep it separated from the propellant (the product is contained inside the bag and the propellant remains outside the bag, inside the can). There is no need to add any preservatives as the content is completely sealed from any possible contact with the air. They are also environmentally friendly and can be used in combination with compressed air or with liquefied propellants. This is a Coster feature, manufacturer of BOVs with 1-in. and 20-mm diameters.

Other BOV features include the use of either aluminun or tinplate cans, filling through the valve, and the content completely evacuated from the container.

Coster has two dedicated facilities for the manufacture of BOVs, one near Trento, Italy and the other near Chicag. In the Trento facility a new, high-output assembly machine for BOV3 has recently been built, where full traceability of all production batches is granted. Both factories have been built to the highest production standards enabling them to meet stringent quality procedures.

Coster also manufactures equipment for filling BOV. The machines are available in a wide range of speeds: from semi-automatic for small-scale production (10-15 cans/min) to fully automatic lines for large-scale production runs (200-220 cans/min).
Companies in this article