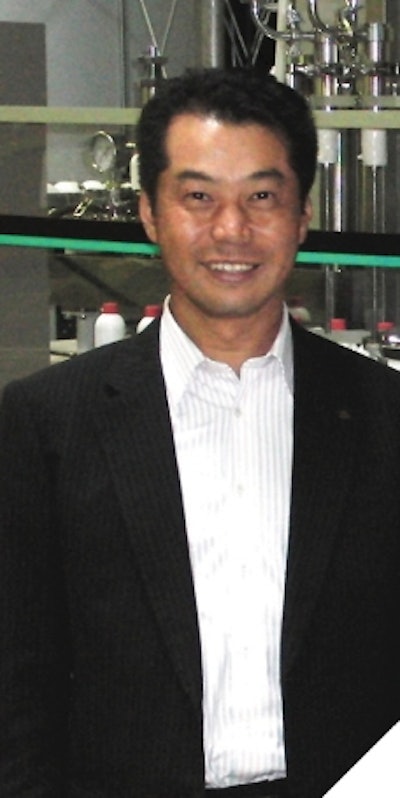 Hidetoshi "Hide" Shibuya, Managing Director of
Shibuya Kogyo Co., Ltd.
in Kanazawa, Japan, was named Chief Executive Officer of Shibuya Hoppmann Corporation on August 12, 2011. Hide has 19 years of experience at Shibuya Kogyo. He brings with him progressive leadership experience and a commitment to blending Hoppmann's quality to Shibuya's world leading technologies.
Starting at Shibuya Kogyo Co., Ltd. in July 1992 in domestic sales, he went on to focus specific customers in Japanese sake breweries and health drink companies before moving into pharmaceutical sales. He has been serving as Deputy Chief Senior Director of Bottling Plant Sales, Chief Director of Pharmaceutical Manufacturing System Sales and Director of Shibuya Kogyo Co., Ltd. since September 2010.
Hide grew up in Japan and completed an exchange program in Buffalo, NY. He graduated from Chuo University in Tokyo.
Shibuya Hoppmann is at the forefront of automated systems development. With advanced technology and proven methods, our expert engineers and qualified staff work closely with our clients in evaluating and solving their specific and often unique needs.
We design and custom manufacture:
· Aseptic Fillers
· Beverage Fillers
· Centrifugal Feeders and Unscramblers
· E-Beam Aseptic Filling Systems
· Cappers
· Continuous Motion and Indexing Assembly Systems
· Complete Turnkey Packaging Lines
· Placement Systems
· H2O2 Decontamination Systems
· Prefeeders
· Print & Apply and Pressure Sensitive Label Applicators
· Isolators and Isolator-Robot Decontamination Units
· Rotary and Inline Labeling Systems
We offer reliable, world leading technologies to many industries, including pharmaceutical, cosmetic, household, food and beverage, confectionery, personal care and electronics.
Companies in this article