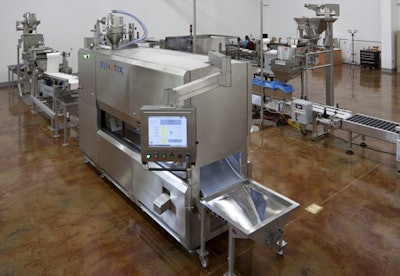 This state-of-the-art facility is designed to create a superior customer experience while effectively demonstrating and testing Symetix's process automation systems to pharmaceutical and nutraceutical manufacturers and packers, both in-person and remotely via a live video interface.

The new 31,500 sq ft (9,600 sq meter) facility includes a secure demo lab that can run tests on customers' regulated and unregulated pharmaceuticals and nutraceuticals. A second secured area is dedicated to customer Factory Acceptance Testing (FAT). With multiple demo and testing areas, the new facility comfortably accommodates numerous customers simultaneously for equipment demonstrations, application tests, and training, which allows customers more flexibility in scheduling their visits.

The Innovation and Solutions Center showcases Symetix's VeriSym® optical inspection system and Impulse™/P size grader for tablets, capsules, and softgels, and PulseScrubber® continuous polishing system for softgels. The equipment can be batch-fed or configured to create continuous automated processes to imitate the customer's production environment and give him an accurate assessment of how the equipment will perform with his product in his plant.

"Our new Innovation and Solutions Center reflects Symetix and Key Technology accurately with a modern, technology-based environment for demonstrating and testing equipment based on each customer's requirements," noted Jon Donovan, Product Manager for Symetix. "We designed every aspect of the center, from the visitor lounges and conference rooms to the testing areas, to maximize our customers' productivity."

A live video feed in the demo labs allows those unable to travel to Walla Walla to see the same demonstration or application test as those present. This capability enables any team member - present and remote - to make observations and ask questions in real-time while their product is being run so changes to the demo or test can easily be made, if needed.

In addition to the demo labs, the new Innovation and Solutions Center will house Symetix's customer-facing personnel, consolidating sales, marketing, and sales applications engineering activity in one facility.
Companies in this article