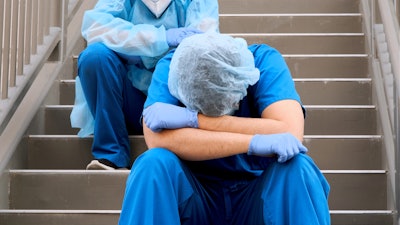 Every day in the U.S., over 53 million caregivers are tending to the needs of an elderly or disabled family member, according to U.S. Department of Health and Human Services. Providing this care can be not only stressful, but time consuming, forcing many people to cut their work hours or quit their jobs altogether, leading to the increased stress of financial problems.
And as if these factors aren't enough to struggle with, throw COVID 19 into the mix, and many caregivers are now suffering from burnout. In fact, a recent AARP American Association of Retired People (AARP) and the National Alliance for Caregiving report revealed 36% of family caregivers describe their situation as "highly stressful."
According to ACL Acting Administrator and Assistant Secretary for Aging Alison Barkoff, "COVID-19 laid bare the need to address the urgent issues experienced by family caregivers. The pandemic exacerbated the challenges of family caregiving. The pandemic has created a new urgency and momentum to address caregiving."
So, what can be done to help these stressed-out caregivers?
The federal government's efforts to alleviate caregiver burnout
Enacted in 2020, the RAISE Family Caregivers Act directed the Secretary of Health and Human Services to develop a national family caregiving strategy, and led to the establishment of the Family Caregiving Advisory Council, which is responsible for making recommendations on effective family caregiving models and support to family caregivers.

In September 2021, the council presented to Congress its initial report, which includes 26 recommendations that fall into five categories: increasing the public's awareness of family caregivers and the contributions they make; engaging family caregivers as partners in healthcare and long-term services and support; improving family caregivers' access to services and support; financial and workplace security for family caregivers; and generating research, data, and evidence-informed practices. But caregiver burnout can't be cured by government actions alone.
---
---
How tech can simplify caregiver duties
During the COVID pandemic, "seeing" doctors with virtual visits gained in popularity. These are particularly helpful for caregivers, since they reduce the time and effort of getting a patient ready for appointments, as well as driving to and from the doctor's office. Most healthcare systems also offer patient portals, which allow caregivers to make appointments and refer to their relative's medications and test results.
Medical devices can also be of great help to caregivers. For instance, medication support systems can remind patients to take their medications and/or dispense the meds. They also might include extra features, such the capability for a caregiver to receive a phone call or email if a dosage hasn't been taken when scheduled.
Overcoming caregiver burnout—It's a team effort
Caring for an elderly or disabled relative is a difficult process, one that more and more people are going to experience as Baby Boomers become older and/or disabled in record numbers. Tech can't solve the problem by itself, and the government can't either, but the combined efforts of these two entities may be able to provide the much-needed solutions to lessen caregiver burnout.