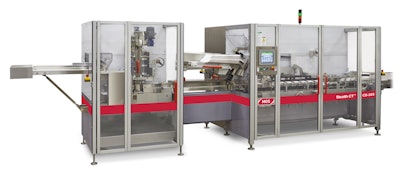 Based on the already well-established CT Platform, The Stealth CT cartoner was on display at the MGS booth in the South Hall. Its new features include Illumiguard, a fault detection system whereby lighting in the area of the fault provides a key visual aid to assist plant floor personnel in identifying and addressing a fault. Go here for a video that captures just how Illumiguard works:https://www.youtube.com/watch?v=SI6Vsw3qxBU&feature=youtu.be
Also setting this cartoner apart is an enhanced HMI that becomes another tool to help personnel easily identify problem areas and troubleshoot them. Another innovative step taken by MGS is to separate the high-voltage enclosure from the low-voltage enclosure, which makes it easy for operators or technicians to access the low-voltage enclosure in compliance with all the safety regulations when troubleshooting the machine.
The Stealth CT continuous-motion cartoner operates at 275 cartons/min, has a small footprint, and incorporates servo-based design to reduce maintenance and provide greater accuracy at high speeds while also simplifying changeover.
Companies in this article