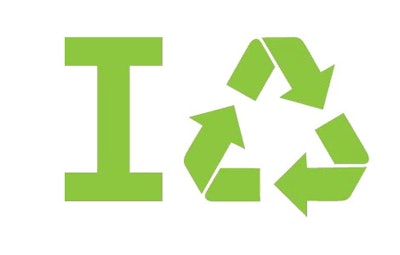 "I Recycle" is again the theme of Keep America Beautiful's 2011 celebration of America Recycles Day (ARD), which takes place officially on Nov. 15. Millions of Americans have pledged to increase their recycling habits at home and at work over the 14-year history of ARD, a nationally recognized initiative dedicated to encouraging people to recycle more at home, at work, and on the go.
"Recycling not only protects the environment, it strengthens the community," says Matthew M. McKenna, president and CEO of KAB.
"The simple act of recycling creates the impetus for innovation in industry and fosters green jobs. Recycling can save communities money through more efficient waste management, and significantly reduces energy costs and demands on our natural resources. Ultimately, recycling improves a community's cohesion and impacts the local quality of life."
Event organizers will declare "I Recycle" at events taking place from now until the end of the month, all designed to educate, motivate, and inspire individuals to recycle more while encouraging their friends and families to do the same. To get involved visit the America Recycles Day Web site, and click on "Join an Event" to access the national database of thousands of events. Local events are searchable by zip code.
America Recycles Day is a program of national nonprofit Keep America Beautiful and is supported by many national and local nonprofits, as well as sponsoring businesses and corporations. In one example, National sponsor PepsiCo is using the day to highlight its Dream Machine recycling initiative, with a team of spotters that will reward individuals for recycling in the Dream Machine bins in downtown Washington, DC.
"On America Recycles Day, we hope that more Americans will commit to recycling every day of the year," says Jeremy Cage, senior vice president and head of the Dream Machine Recycling Initiative, PepsiCo. "We're proud to collaborate with Keep America Beautiful to bring Dream Machines to communities across the U.S. Together, we are working to make it convenient and rewarding to recycle bottles and cans on-the-go."
Alcoa and Alcoa Foundation are also among the national sponsors providing resources and supporting events. The company's recycling Web site offers a host of resources—including a free Aluminate iPhone app—to help individuals recycle more.
"We are proud to once again sponsor America Recycles Day," says Paula Davis, president, Alcoa Foundation. "Communities across the country are rallying together to learn more about how they can reduce their waste. If all Americans recycled just one more can per week, we could reach our 75 percent recycling goal in the U.S. and save enough energy to power almost 300,000 average U.S. homes for a full year. Every step counts."
America's leading companies and organizations support recycling through sponsorships and partnerships with America Recycles Day 2011: Alcoa, Inc.; American Chemistry Council; Anheuser-Busch; Earth911.com; Disney's Friends for Change; The Glad Products Company; Johnson & Johnson; LG Electronics U.S.A.; Nestlé Waters North America; Owens-Illinois, Inc.; PepsiCo; and Waste Management. 


Companies in this article