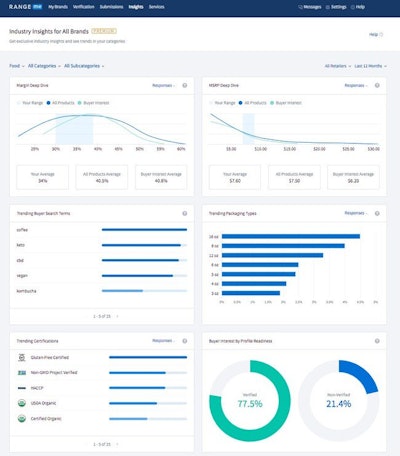 Though it's one of the nation's largest drugstore chains, Walgreens has set its sights on including products from small suppliers in its stores.
"Doing business with small and diverse suppliers is a key part of our corporate social responsibility strategy," said Carlos Cubia, Vice President and Global Chief Diversity Officer, Walgreens Boots Alliance, in a recent news release.
The chain recently joined RangeMe, a sourcing platform that streamlines new product discovery between product suppliers and retailers. The platform is designed to offer retail buyers an efficient way to discover new products and manage the inbound product submission process. For product suppliers and manufacturers, RangeMe provides greater access to retail buyers.
Connecting with a range of suppliers
The technology allows retailers such as Walgreens to access key information about suppliers, ranging from company background to product specs, packaging dimensions and more. RangeMe seeks to create an accessible path for product review, with a standardized way for merchants and buyers to gather from potential suppliers. Nicky Jackson, CEO of RangeMe says in the release, "As the CPG industry continues to change, we want to ensure that our retail partners have access to the essential information they need to make knowledgeable decisions about the suppliers they do business with."
Walgreens merchants will be able to engage with a varied supplier base (there are more than 150,000 suppliers on the RangeMe platform), while narrowing searches to include any number of criteria to help them find small and diverse suppliers.
"Being able to more easily access these suppliers is something that is very important to Walgreens, and we're pleased that the RangeMe platform allows us to find new ways to offer our customers great products," says Cubia.
Industry data
The platform's Industry Insights feature offer suppliers/manufacturers with real-time information regarding the characteristics retail buyers are looking for in a product. This includes product attributes such as packaging size or pricing and gives suppliers information they can use to target and refine their product ideas.
Jackson notes, "Supplier diversity doesn't just benefit the retailer or the supplier, it benefits the entire process as a whole. And we want to foster that development and movement, and the growth it brings."