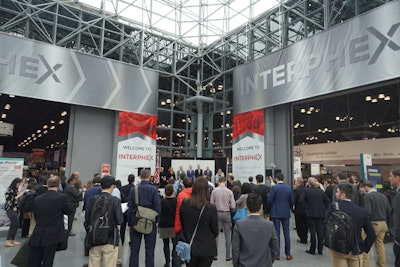 INTERPHEX 2019 returns Apr. 2-4 at the Javits Center in New York, NY,to address challenges faced by the pharmaceutical, biotech and device industries. The event, celebrating its 40th anniversary, will deliver its technical conference sessions, PDA roundtables and networking events, and showcase technologies and industry expertise.
New tech-focused networking events will debut this year, hosted by companies and organizations including MG America, Germfree and Pharma-Bio Outsourcing Association (PBOA), a nonprofit trade association advancing CMO and CDMO interests.
Here's a look at some of the packaging-focused sessions scheduled during the INTERPHEX conference (accurate as of press time):
April 2
10:30 A.M.–11:15 A.M.
PDA Roundtable: Data Integrity Across the Enterprise
11:30 A.M.–12:30 P.M.
Packaging Line with Aggregation: A Project Management History
Lessons Learned: An Industry Post-Serializations
1:15 P.M. – 2:00 P.M.
Continuous Aseptic Manufacturing Using Spray Freeze Drying: Equipment, Process and Product Considerations
3:00 P.M. – 4:00 P.M.
Advantages of Standardized and Fully Integrated Automation Solutions for Processing & Packaging Lines
3:15 P.M. – 4:00 P.M.
Aseptic Processing: Achieving Advanced While Staying Flexible
4:15 P.M. – 5:00 P.M.
Exploring a Blockchain Enabled Supply Chain
April 3
10:00 A.M. – 10:45 A.M.
Advanced & Highly Adaptive Automation Technology Integrated with Industry 4.0 Trends
10:30 A.M. – 11:30 A.M.
Continuous Manufacturing in the Pharma Industry: A Systematic End-to-End Method for Continuous Process Development
11:00 A.M. – 11:45 A.M.
Adding Intelligence to Legacy Assets Through AI & Domain Expertise for Operational Excellence
11:00 A.M. – 11:45 A.M.
Cyber Resilience: Ensuring Your Infrastructure Can Withstand Adverse Events and Attacks Without Jeopardizing Productivity
2:00 P.M. – 3:00 P.M.
Continuous Drug Product Manufacturing: Moving from Oral Solid Dosage Forms to Dry Powders for Inhalation
2:00 P.M. – 2:30 P.M.
BOSCH Packaging Technology: Automated Process Development for Hard Capsule Filling
3:00 P.M. – 4:00 P.M.
Containment Solutions: General Concepts and Real Applications in Encapsulation Process
3:15 P.M. – 4:00 P.M.
Combining Industry 4.0 and Big Data to Reduce Manufacturing Costs
4:15 P.M. – 5:00 P.M.
Isolator Based Flexible Filler
April 4
10:00 A.M. – 10:45 A.M.
PDA Roundtable: Slowing Down - The Need for Flexibility Over Speed
10:00 A.M. – 10:45 A.M.
Technology Solutions for Challenges in Cold Chain Storage and Transportation
11:00 A.M. – 11:45 A.M.
Isolation and Containment in Cell and Gene Therapy Applications
11:00 A.M. – 11:45 A.M.
Digital Transformation: Getting Fit for the Future