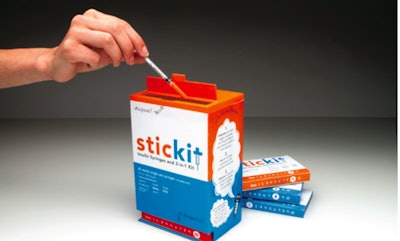 The competition featured innovative package designs from university students from more than two dozen nations. In addition, two other Cal Poly teams received WorldStar Student Certificates of Merit given to the next 10 highest scoring entries.
The Cal Poly students were honored for designing creative, functional, and eye-catching packaging systems for food, healthcare, and sports products. The interdisciplinary teams combined industrial technology and packaging students with art and design students to develop a physical prototype of their product complete with branded graphics.
The university's highest scoring entries were named as WorldStar Student Winners.
The Cal Poly team behind "Stickit," a two-in-one packaging system to dispense disposable syringes and safely store the empties, was among the top three entries. A pull tab on the bottom of the package dispenses boxed syringes; a hinged-lid on the top of the container can be opened and locked for safe syringe disposal. A plastic divider separates compartments, moving down with gravity as syringes are dispensed until it finally closes the container when all the syringes have been used.
The entry was designed by industrial technology and packaging students Paul Woodman and Michael Lowe; graphic communications student Dana Shell; and art and design students Gina Agapito and Ashley Vong.