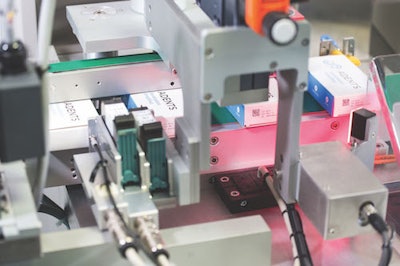 East Windsor, NJ – Adents, a leading provider of premier, versatile serialization and track & trace solutions, has announced a prominent line-up of expert presenters for its Philadelphia Serialization Innovation Summit. Featuring experts from global IT and technology leaders such as Microsoft and Siemens, as well as officials from government oversight and advocacy groups such as the Healthcare Distribution Alliance, GS1, and Medicines for Europe, the event is slated for June 20-21 at Le Meridien Hotel in Philadelphia, PA.
The Adents Serialization Innovation Summit is a three-continent set of events that kicked off with a very successful first edition in Paris April 5-6. Following the Philadelphia event, a subsequent gathering is scheduled for Shanghai this October.
The summit will address pharma applications of various new technologies – including blockchain, augmented reality, and virtual batch record – as well as the myriad of ways that data generated by serialization can be utilized to improve production and business practices for beyond-compliance ROI.
During the 1½-day conference, participants will meet with world-leading technologyevangelists and traceability experts to understand the future challenges faced by various pharma industry players.
In Philadelphia, experts from Microsoft will explore areas such as Cloud architecture, intra and inter-system connectivity, AI, and blockchain. Thought leaders from international organizations such as GS1 Healthcare will discuss efforts to standardize – and therefore simplify – serialization, and representatives from the Healthcare Distribution Alliance and Medicines for Europe will discuss the push toward regulatory compliance on both sides of the Atlantic.
The track & trace needs of pharmaceutical dispensers will also be addressed, and experts will be on hand to discuss serialization's far-reaching supply chain implications. Confirmed speakers to date include (but are not limited to):
• Paul Slater, Worldwide Director of Industry Strategy, Life Sciences for Microsoft, will present how the newest Microsoft technologies impact the Pharma Industry
• Greg Bylo, Vice President for GS1 US Healthcare, will present GS1 Standards for interconnected Pharmaceutical Supply Chain
• Perry Fri, COO & Executive VP of Industry Relations, Membership & Education for the Healthcare Distribution Alliance, presents HDA Origin and Beyond, addressing efforts toward a common, digitized serialization reporting hub for DSCSA compliance
• Todd Lybrook, Life Sciences Director for Siemens, will discuss various aspects of pharmaceutical digitalization
• Maarten Van Baelen, Market Access Director at Medicines for Europe, will discuss requirements for the European Hub serialization reporting network and give an update on the level of readiness in the EU.
• Jeff Denton, Senior Director, IT Global Secure Supply Chain for AmerisourceBergen, will present Serialization Challenges for Wholesalers.
"Serialization and the data it generates impacts all aspects of pharmaceutical production, from packaging line configurations and production floor OEE to IT architecture, personnel allocation and supply chain procedures," said Christophe Devins, CEO & Co-Founder of Adents. "The Philadelphia Summit brings together experts from various corners of the track & trace landscape and high-level technology evangelists, in an effort to showcase serialization's significance to various business processes and niches. It's a way to tell an overarching story through several intertwined chapters."
For more information, click here