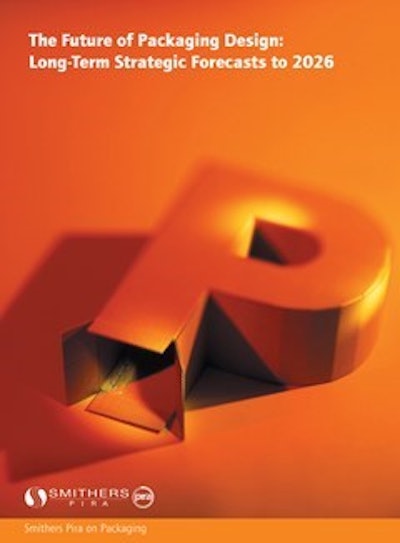 Active and intelligent packaging, nanotechnology, printed electronics and sustainable packaging will help determine packaging design considerations in the next decade.
Personalization, luxury, and "kid's power" will also factor into future package design.
Some of these design factors and technologies are already utilized in packages currently on the market or in development, but they will also represent the key drivers and trends affecting global packaging design, according to Smithers Pira's new report, "The Future of Packaging Design: Long-Term Strategic Forecasts to 2026."
The packaging, paper, and print industry supply chain resource says the report will be available in hard copy and digital versions by Sept. 30, 2016.
The report's 68 tables and six figures will include the following details:
• The outlook for active packaging to 2026
• Total product packaging by end use by value 2010/2020
• Top 10 fastest growing markets for food packaging by value 2010/2020
• Total healthcare packaging by region by value 2010/2020
Reports on packaging substrates including flexible paper, foil, and rigid plastic packaging, as well as board, metal, and glass will also be included—as will food, beverage, cosmetics, and healthcare product packaging market information.
Smithers Pira's report also notes packaging design will be determined by supply side factors such as technological trends that include bioplastic packaging, anti-microbial packaging, digital non-impact printing, intelligent indicators, and temperature-control packaging.
Demand side factors influencing package design, says the report, will be represented by consumer trends. Among them: Single person households, nostalgia, artisanal, and health and wellness.