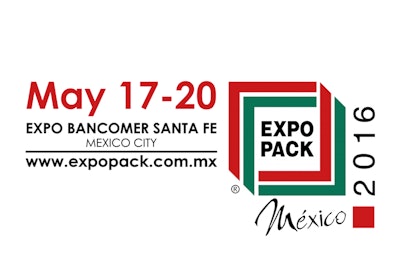 The second day of EXPO PACK México opened with news that the U.S. is once again the leading supplier of packaging machinery into the Mexican marketplace, according to PMMI, The Association for Packaging and Processing Technologies.
Luis Doménech, managing director, Market Intelligence Latin America (MILA), reported this during a special conference session on PMMI's newest research, Opportunities for Packaging Machinery in the Mexican Market 2016-2017. Commissioned as an update to its 2015 report on Mexico's packaging machinery market, PMMI saw a need for the latest data after Mexican packaging machinery imports rose 15 percent to an historical high of US$678.1 million.
The study revealed that Germany and Italy saw declines in their packaging machinery exports to Mexico, while imports from the U.S. grew an impressive 58 percent from US$151 million in 2014 to US$239 million.
What spurred the American growth?
Doménech explained that industry consolidation and foreign direct investment (FDI) in Mexico—especially in the food and beverage sectors—has led to the bulk of capital machinery investments coming from large multinational companies who produce in Mexico. These companies demand high-speed machinery for large-scale production, an area where American manufacturers are highly competitive. Other factors such as geographical proximity, lower transportation and set up costs, technological integration with software solutions popular in America, wider availability of financing and local service are also factors that have led the U.S. to re-capture the leading supplier position.
With an estimated 16 percent of packaging machinery supplied by Mexican companies, the U.S., Italy and Germany combined to provide nearly 71 percent of all packaging machinery imported into Mexico in 2015.
"The need for packaging machinery will continue to grow, despite the Mexican economy's projected moderate growth of 2.5 to 2.8 percent in 2016," Doménech said. He attributed this to six primary drivers: a growing gross domestic product (GDP); inflation at its lowest point in a quarter of a century at 2.13 percent; increasing foreign direct investment (FDI); high internal demand; a younger population within a growing middle class and job growth.
He specifically cited strong expected investments from the beverage and food sectors in 2016-2017, naming Constellation Brands, Coca-Cola, PepsiCo, Nestlé, Mondeléz, Heineken, Mars, Kellogg's and Diageo as just some companies who have announced plat expansions or modernization projects.
OEMs looking to maintain or improve their market position need to offer some level of local service as this personal touch ranked third behind the machinery quality and price.
"Those suppliers not able to provide local service will most likely see their demand shrink as several international competitors have established local service capabilities either directly or through distributors/reps," said Doménech. "The best means to promote packaging machinery in Mexico are by exhibiting at EXPO PACK, all the companies interviewed for the production of this report, indicated that they visit EXPO PACK to learn about packaging trends and to meet new potential suppliers."
Companies in this article