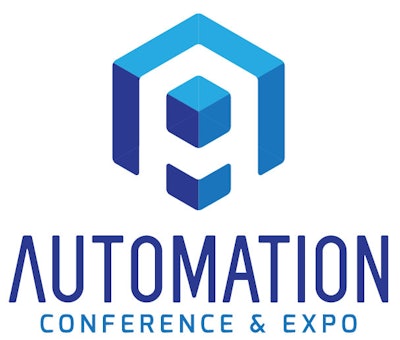 The Automation Conference & Expo 2016 (AC&E) will explore trends and technologies that drive increased efficiency, profits and safety for manufacturers across all industries. Practical applications of the Industrial Internet of Things, collaborative robotics, control system cybersecurity and other technologies will be featured May 24-25 at the Chicago Marriott O'Hare in Chicago.
Technology end users, experts and industry professionals will return to the AC&E 2016, formerly The Automation Conference, to explore leading-edge automation technologies for engineering and management professionals within discrete manufacturing, packaging, and continuous and batch processing.
This year's topics will include: collaborative robotics, the Industrial Internet of Things; connectivity between controls, MES and ERP systems; IT and control system cybersecurity; remote monitoring; digital manufacturing; high performance HMI; and overall equipment effectiveness (OEE).
Now in its fifth year, the conference is produced by PMMI Media Group, publishers of Automation World and Packaging World. Scheduled presenters include professionals from DMDII (Digital Manufacturing and Design Innovation Institute), Dow Corning, Land 'O Lakes, Chobani, BASF, Chevron and other global leaders in manufacturing. In addition, automation solution providers will host tabletop exhibits and Technology Workshops throughout both days of the conference.
David Greenfield, Automation World's Director of Content and conference program architect comments that the pace of technological change in manufacturing today makes continuing education a competitive necessity.
"This year's Automation Conference & Expo will focus on the most relevant developments in manufacturing and processing industry automation. We'll take a look at how today's market leaders are using collaborative robotics, the Industrial Internet of Things and remote access to control systems with mobile devices. Additionally, the issues surrounding cybersecurity permeate virtually every new application and we're dedicating multiple sessions to strategies and solutions related to this critical issue. This year's program offers an outstanding education professionals will not find anywhere else."
New in 2016, AC&E will offer a pre-conference event called Machine Technology Day: Safety Standards and Processes, on Monday, May 23 at the Chicago Marriott O'Hare. A full day educational program includes an in-depth presentation from PMMI, The Association for Packaging and Processing Technologies, on the risk assessment process and how it can be used to address product safety and machine safety issues.
The Organization for Machine Automation and Control (OMAC) returns with an afternoon workshop for packaging end-users, OEMs, and automation and packaging professionals who want to learn more about implementing PackML to increase productivity, integration efficiency and automation performance. Separate registration is required for Machine Technology Day.
Registration and details for the Automation Conference & Expo 2016 and Machine Technology Day are available at TheAutomationConference.com or by contacting PMMI Media Group at 1-800-355-5595.
PMMI Media Group is a market-leading B2B media company that produces information for processing and packaging professionals, bringing together solution providers and end users and facilitating connectivity throughout the supply chain.
Its world class media brands — Packaging World, Automation World, Healthcare Packaging, Contract Packaging and Packaging + Processing OEM—are proven leaders in covering this diverse and dynamic marketplace, and its digital products incorporate leading-edge media technologies to deliver informed, actionable business intelligence to the industry. PMMI Media Group also produces the Automation Conference & Expo.
PMMI Media Group is owned by PMMI, The Association for Packaging and Processing Technologies, a trade association representing more than 700 companies that provide a full range of processing and packaging machinery, materials, components and containers. PMMI actively brings buyers and sellers together through initiatives such as packexpo.com, educational programs and world-class events, connecting participants in the processing and packaging supply chain with their customers around the world. The PACK EXPO trade shows unite the world of processing and packaging to advance the industries they serve: PACK EXPO International, PACK EXPO Las Vegas, Pharma EXPO, PACK EXPO East, EXPO PACK Mexico, EXPO PACK Guadalajara and ProFood Tech, launching in April 2017.
Companies in this article