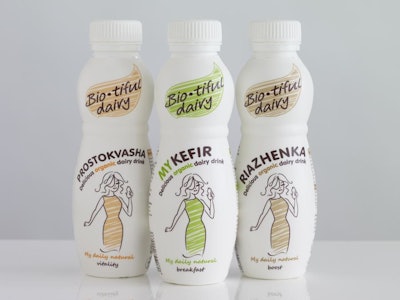 M&H Plastics extrusion blow molds the HDPE bottle. The range of three products has been produced from an authentic Russian Kefir recipe and is the inspiration of Natasha Bowes, a former figure skater originating from Moscow. The delicious organic dairy drinks use the highest quality organic milk from a dedicated cowherd in the beautiful South Downs countryside. They contain only natural ingredients which are a source of essential vitamins. No sugar or preservatives; just billions of live microorganisms.
The bottle shape is unique. It was designed by Natasha Bowes and aims to echo the digestive benefits and lightness of the natural dairy drinks. M&H interpreted the brief to produce an exclusive design for the bottle that would mold around the hand making it a pleasure to hold, either at home or in transit. M&H worked closely with Bio-tiful Dairy to ensure that the design offered maximum convenience to the consumer. The bottle shape and tamper-evident cap work together resulting in a bottle that makes it easy to drink 'on the go' and reseal later ensuring that the nutritious drink is there to support you whatever the day's demands. The design compliments the striking graphics and is shrink-sleeved.
The bottles are produced from a high-grade recyclable material that offers optimum protection for the gentle drinks and supports the substantial 4-week refrigerated shelf life.
The distinctive organic product range is light in taste, refreshing and nutritious with a powerful vitality kick. Natasha Bowers of Bio-tiful Dairy said: "It was crucial to us that our brand values were incorporated into the design. We found that we worked well with M&H as a team and are delighted with the end result."
Companies in this article