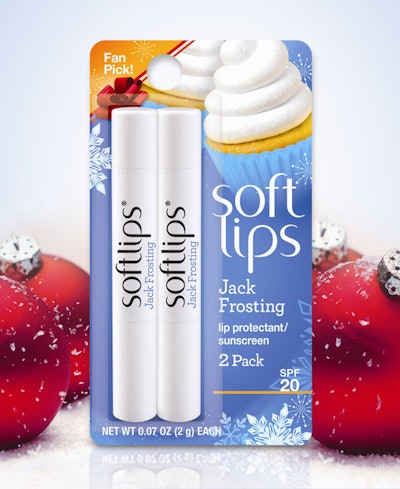 The 2012 holiday season is just about here, and The Mentholatum Company is hoping consumers will be enticed by its Softlips Holiday Gift Tag Packs that will arrive on store shelves in November. Each of the four holiday varieties includes two lip balm sticks.

The company recently updated the look of its Softlips brand to appeal to a more contemporary and sophisticated female consumer.

The limited-edition holiday packs combine a Softlips classic flavor with a bonus Softlips seasonal stick and feature "to & from" spaces on the packaging to make gift giving a snap.

Softlips Holiday Gift Tag Packs will be available in the following varieties at retailers nationwide: Softlips Vanilla with bonus Softlips Winter Mint, Softlips Vanilla with bonus Softlips Sugar & Spice, Softlips Raspberry with bonus Softlips Sugar Cookie, and Softlips Raspberry with bonus Softlips Sugar Plum Berry

"Holiday gift giving can put a strain on anyone's budget," says Katherine Tocheff, director of innovation. "That's why we're launching exciting new seasonal products that are as amazing as they are affordable."

"Our Holiday Gift Tag Packs make it easy to share the holiday spirit," Tocheff adds. "And we hope to provide more opportunities for fans to vote for new flavors like Softlips Jack Frosting and Softlips Peppermint Stick. Our goal is to provide new products for new occasions, all year long."

All Softlips holiday products will be priced under $5.00 and feature festive graphics for giving as stocking stuffers, package toppers, and gifts for teachers, classmates, family, and friends.

Softlips offers a full line of lip conditioners, lip tints, lip glosses and therapeutic lip products, including natural and organic products. Softlips is currently available in the lip care section at food, retail and drug stores nationwide.

The Orchard Park, NY-based Mentholatum Company is a global health and wellness company dedicated to providing healthcare solutions for the treatment and prevention of conditions associated with skin care, pain relief and eye care.
Companies in this article