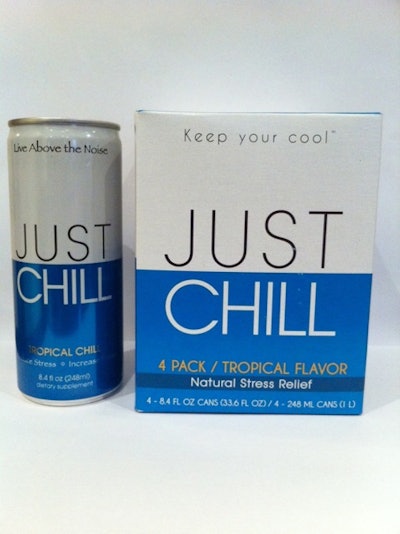 Just Chill, an all-natural stress relief and relaxation beverage produced by The Chill Group, Inc., Marina del Ray, CA, is now marketed in a new four-pack option. The packaging allows for better storage and easier distribution to consumers.
A company spokesperson says, "Packaging plays a paramount role in informing the customer what a product is all about. For example, we purposefully made the design of Just Chill reflect its function by making it simple and balanced. Instead of skewed lines, bright colors, and loud graphics, we went with clean bold lines, a soothing and basic color combination, and simple graphics. All these aspects combine to signifying feelings of calm and relaxation to Just Chill's audience."
The primary pack is a 12-oz aluminum can from
Rexam
. Its design mirrors the can. It is blue, and white with a bit of orange and black writing. Ends are purchased separately.
The four-pack paperboard carton is supplied by
General Paper Products
. RJM Distributing packs the four-packs.
The white 24-pack case trays are provided by Just Chill's co-packer
Coldspring Brewing Co.
.
Just Chill sets itself apart in the market with its proprietary "chill" blend that combines L-Theanine, Lemongrass, Ginkgo Biloba, and Ginseng with all-natural fruit flavors. The beverage contains 50 calories and 12 grams of sugar with no artificial flavoring. The Just Chill four-pack sells for $7.99 and is available at Amazon.com, and will be available soon at Whole Foods Markets.