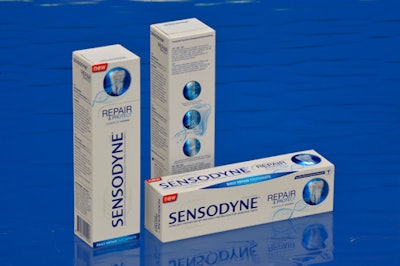 The packs, which are the result of close collaboration between Chesapeake, GSK's internal packaging design team and
API
, incorporate 3D bubbles designed to be so intriguing you feel compelled to touch the carton.
The 3D feature simulates the effect of looking at a life-like model of a tooth as well as close-up images that help to describe the benefits of using the product. The effect is achieved by the incorporation of a series of Fresnel lenses into the cartonboard. The lens area is then overprinted. The resulting life-like perspective produces the impression of depth that provides the pack with a tactile quality that is further enhanced by the carton's bevelled edge.
Bobby O'Connor, Chesapeake's divisional sales and key account director, said, "GSK's intention was to create a pack that was eye-catching but reinforced the brand's qualities. 3D techniques have been used on packaging before but we believe this is the first time they have used it to support a high-volume brand."
The new cartons have been launched in various global markets, including Europe, Middle East, and Asia.
The carton, produced at Chesapeake's Nottingham and Leicester facilities, is printed in five colors plus both matte and gloss finish to provide differentiation and brand enhancement through tactile feeling.
Duncan Macnally, managing director Nottingham & Leicester, said, "The key to the carton's execution is with repro and print, which has to be 100-percent accurate to ensure we get the best from the effect. Print registration is also critical, demanding constant attention to detail."
-Jim Butschli, Editor, Healthcare Packaging