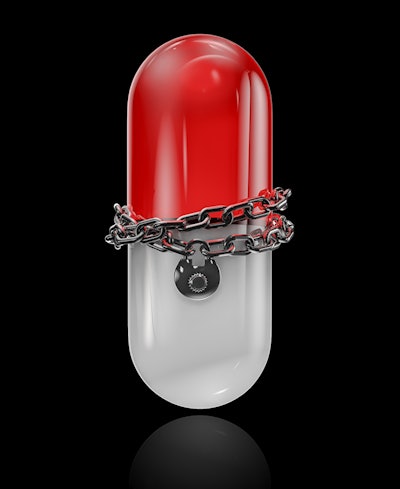 Getting counterfeit drugs off the market is a priority for the U.S. Food and Drug Administration, as well as for every company that makes medications and every single person who has a prescription.
In a world where counterfeit drugs generate billions of dollars in revenue annually and, in some countries, make up as much as 70% of the total drug supply, it is clear that this is a problem of epic proportion.
Obliterating counterfeit sales is not just about business—it's about global health. People are dying from these imitation drugs. Suddenly, the fight isn't financial. It's personal.
This became clear during a recent conversation with Mike Bryant, Administrative Director of the OPC Foundation and one of the individuals guiding the OPC's Open Serialization Communication Standard (Open-SCS) working group. Open-SCS is developing an industrial interoperability standard for healthcare packaging serialization regulations.
Mike and I sat down at the ARC Forum in February to talk about the goals of Open-SCS and some of the obstacles to overcome. Specifically, the ability to create a supply chain that is traceable from end-to-end is hampered by the complexity of heterogeneous systems and the lack of interconnectivity from the packaging line to the distribution center to the pharmacy and ultimately to the patient.
On top of that, there are global regulations, including the FDA's Drug Supply Chain Security Act (DSCSA), with deadlines to meet, some of which have already passed and some that will continue to be phased in through 2023. And when pharmaceutical companies and contract manufacturing organizations (CMOs) feel the FDA breathing down their necks, they are going to implement anything that solves the problem at the moment. The result is layers of serialization that are tactical in function, but not scalable or maintainable.
Open-SCS is trying to solve that by developing an open source standard and an associated set of subscription-based work products. The open standard and work products are focused on the standardization of data exchanges for healthcare packaging serialization and the aggregations between a healthcare provider'senterprise serialization management function and their product packaging lines.
An open communication standard that is independent of vendor-specific architectures reduces the risk for supply bottlenecks and technology lock-ins. It certainly is a great idea. But it also takes a whole lot of work.
Currently, Open-SCS has about 10 companies on the steering committee representing both pharmaceutical manufacturers and vendors. Last month, automation supplier Omron joined the group, and Bryant notes that the list of Open-SCS participants is growing—with more announcements to follow.
Having the backing of major players in the pharmaceutical industry is important to the success of this initiative. But spearheading such an effort is not easy and not a responsibility to be taken lightly.
So I asked Bryant—who has already contributed to his country having served in the U.S. Naval Submarine Service, and has done his part evolving the automation industry having founded the PROFIBUS Trade Organization in 1993 (now PI North America)—why he wants to take on the painful project of serialization standardization.
His answer was simple: "If I am part of something that helps save even just one person, then it is all worth it."
Well said.
So I say, thank you, Mike, and every individual in the Open-SCS working group, for all you are doing to combat counterfeit drugs.
Companies in this article