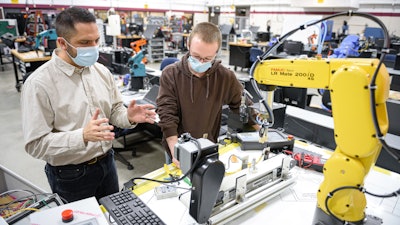 The Future Leaders in Packaging Scholarship from Packaging World and the PMMI Foundation was established in 2011 in conjunction with Leaders in Packaging—a print and online marketing program that enables suppliers to promote their innovations and expertise to the packaging community. Check out this link to view a list of leading packaging suppliers who have chosen to participate in this program. Feel free to click on the companies to learn more about them. The scholarship is awarded each year to an educational institution that prepares students for careers in packaging. The recipient school selects one or more students pursuing related degrees and distributes the funds to the student(s) to defray tuition and other education-related expenses.
"The Automation Robotics Engineering Technology program at Hennepin Technical College is one of the oldest Packaging Technician programs in the United States. The first set of students graduated in 1975 with under the original program name of Packaging Technician," says Jeff Thorstad, faculty, Hennepin Technical College, Automation Robotics Engineering Technologies/Packaging. "Over time, as technology advanced and it was realized that the skill set provided to students focused on Packaging Systems could be applied to many different manufacturing industries, the program name evolved into the current name while keeping our unique focus on the Packaging Industry. We provide opportunities for both full-time and part-time students with schedules that are friendly to working both full-time and part-time jobs. Currently 60% of our students are part-time students."
Hennepin Technical College has worked directly with many regional companies to help expand their workforces through developing apprenticeships, maintenance trainee, and earn-while-you-learn models of developing new maintenance personnel who are trained in mechatronics and can solve many different types of problems that arise in the manufacturing facility. This is helping companies to find and retain new maintenance technicians in a difficult job market.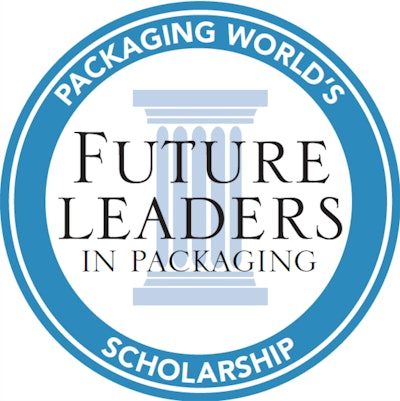 "Our graduates have become true multi-skill technicians when they enter the workforce. We focus on the whole machine and not just specialty areas such as mechanical, electrical or pneumatics," Thorstad says. "Our students have knowledge about all of these areas plus PLC programming, robotics, and troubleshooting. Through this our students are able to fix the majority of the problems that occur on the manufacturing floor."
The Automation Robotics Engineering Technology program at Hennepin Technical College program is a stand-alone program that develops maintenance technicians. The program's focus is packaging equipment and most of the equipment it uses has been donated to by PMMI member companies such as Delkor Systems and MGS Machinery. Thorsdad and the team and HTC train students on the packaging equipment as it has many different applications and shows different types of systems.
So, how will the scholarship dollars be divided?
"We will award five $1000 scholarships based on need and leadership. We are in the process of obtaining a list of all the program students who applied for the college scholarships with the standard application. When we receive this, program faculty will review all the applicants and apply points for leadership in the classroom, participation in student-club activities, and participation in program tours and industry events," Thorstad concludes. PW
Companies in this article