Conagra Brands, with packaging partner Berry Global, has launched a new cube-shaped container for its Swiss Miss Hot Coca line that is made of recyclable polypropylene and an in-mold label. Here, Katya Hantel, Sr. Director of Sustainability for Conagra Brands, shares details on the project and how it fits into the company's larger sustainability efforts.
Packaging World:
What are your responsibilities as Sr. Director of Sustainability for Conagra Brands?
Katya Hantel:
Sustainability at Conagra Brands is a cross-functional effort to bring everyday nourishment to people and the planet through four pillars of activity: Good Food, Responsible Sourcing, Better Planet, and Stronger Communities. We're a 100-year-old company with a startup attitude—an imperative to transform how we do business. Category-changing ideas like our Swiss Miss packaging redesign come from insights, ideas, and expertise across our organization, guided by our timeless values of integrity, external focus, broad-mindedness, agility, leadership by all, and a focus on results.
As a member of our R&D Leadership Team, my role is to champion the development of more sustainable products across our portfolio of frozen, grocery, and snacks brands, from ingredient source to packaging end-of-life. I partner with sustainability teams and individuals across R&D, Environment, Health and Safety, operations, procurement, human resources, philanthropy, and other areas to bring this vision to life.
---
See: Swiss Miss is First in Cocoa with Recyclable Tub

---
How does Conagra select those packages from amongst its portfolio of brands to redesign for greater sustainability? Why was Swiss Miss chosen?
We seek to make improvements our customers and consumers want from a performance and sustainability standpoint, while maintaining a rigorous focus on food safety. Our dedication to innovation extends into packaging, and earlier this year we announced a goal to make 100% of current plastic packaging renewable, recyclable, or compostable by 2025. With that goal in mind, we start by examining the business impact that a package redesign will bring and identifying where we can adopt sustainability solutions within our portfolio.
In the case of Swiss Miss, our business, R&D teams, and supplier partners saw an opportunity to both reduce the environmental impact of the packaging and provide design solutions that made the product more practical and easier for our customers and consumers to use.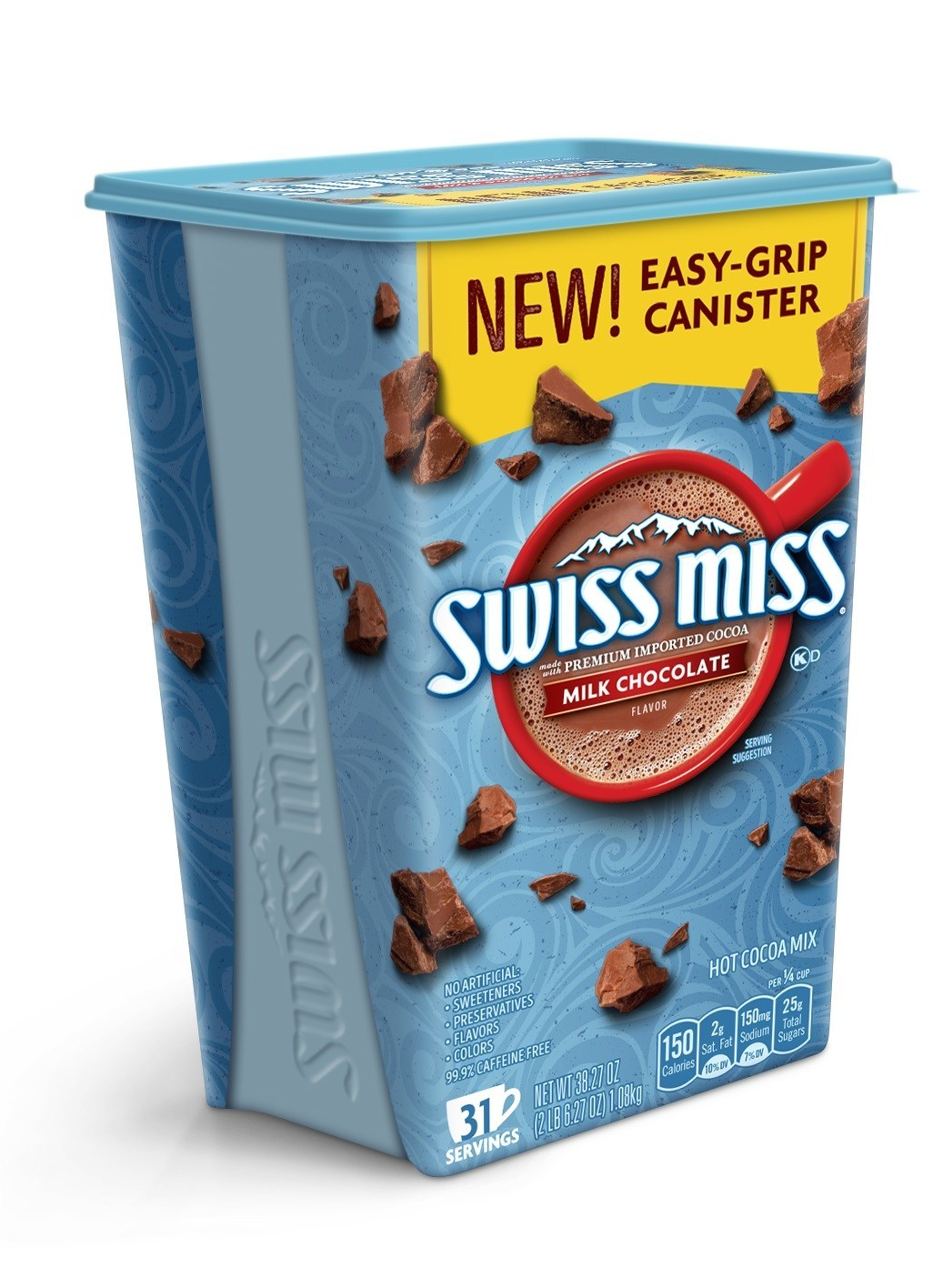 What were your goals with the new Swiss Miss package?
We wanted to unlock new opportunities for growth while prioritizing environmental benefits. This was a chance to evolve consumer and retailer expectations for the category. Round canisters are the conventional shape for cocoa packaging, and we wanted a fresh approach to the design that was better for our customers, our consumers, and the planet.
Can you describe the new design and why the various elements—e.g., the square shape, the PP material, and an in-mold label—were selected?
Traditional round canisters are less convenient to hold and scoop. The cube shape is easier for consumers to grip and pour, it fits better in your pantry, allows for more effective shelving at the store, and is more space-efficient to transport. The lip of the container is flush with the package interior, meaning that there are no awkward attempts to shake out the last bit of cocoa powder from the container. With the in-mold label, the packaging and the label consist of the same material and can therefore be fully recycled. In the end, we wanted a highly distinctive packaging solution that eliminated traditional consumer pain points and increased convenience, functionality, and sustainability.
---
See: Healthy Choice launches revamped recipes in new fiber bowl for frozen aisle

---
How did Berry Global assist in developing the new container?
Our partnership with Berry Global's design arm, Blue Clover Studios, is based on strong collaboration, innovation, and impact. Right from the start, they helped us embed sustainability measures and principles in our development process without sacrificing aesthetic and stylistic choices. They also helped us think through important end-to-end decisions, from identifying how to maximize shelf capacity at retail to understanding how to best palletize the product.
What are the sustainability benefits of this new package?
The new package is made from recyclable plastic. And we gain a sustainability benefit from the space-efficient tapered cube design, bringing more canisters into our facility on fewer trucks. These new features reduce the carbon footprint associated with manufacturing and transporting the hot cocoa containers by 15%.
How do these advantages fit into Conagra's overall sustainability vision?
For our consumers and employees, our communities, and our planet, Conagra's commitment is to nourish—to foster community, health, and growth. Nourishing our consumers with good food means providing them choices while meeting our high quality and food-safety standards. And we strive to nourish the planet by sourcing raw ingredients and packaging materials responsibly while generating less waste for disposal, reducing energy use and water use, and helping preserve our forests and other resources.
Over the last decade, employee projects submitted for the Conagra Brands Sustainable Development Awards have conserved 3.5 billion gallons of water, decreased our carbon footprint by 189,280 metric tons, and reduced waste by 93,700 tons.
We're proud of the impact we've been able to make so far, and the opportunities ahead.

Companies in this article