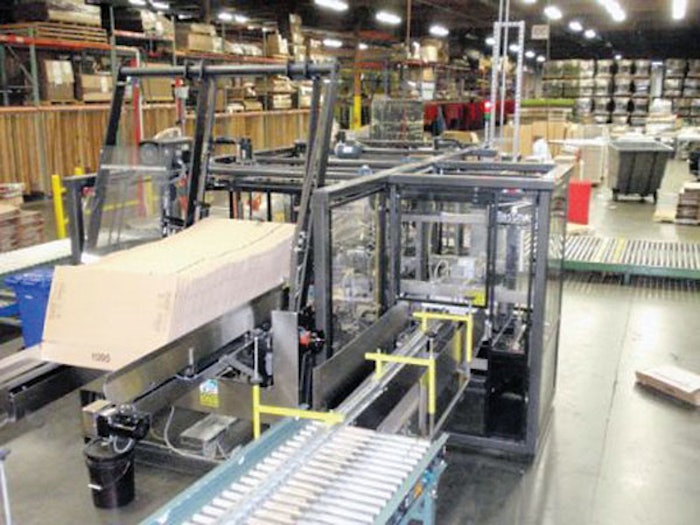 "We're experts in manufacturing custom corrugated containers," says Krist Leland, director of manufacturing for Alliance Packaging. "But we weren't experts at erecting the corrugated cases into which our knocked-down corrugated containers are inserted."
So when the Renton, WA-based firm installed a new production line on which to make its custom corrugated containers, Leland began researching high-speed machines to replace two semi-automatic case erectors that couldn't keep up with the new production line's speeds. His research led to the installation of an automatic case erector/loader/sealer from Massman Automation Designs (www.massmanllc.com). The Model WACP-YE serves a manufacturing line that is used almost exclusively for one customer, explains Leland. The line produces seven different sizes of glued, full-overlap custom corrugated containers that are automatically inserted 25 at a time into corrugated cases.
A much better way
Prior to installing the Massman system, an employee stacked corrugated cases into the old case erector by hand. The machine then popped the cases open. Next, the employee manually inserted a bundle of 25 custom corrugated containers into the case. The case erector sealed the ends of the case before discharging it.
Now, the bundles of custom corrugated containers are conveyed to the Massman system, which automatically compresses them and inserts them into corrugated cases that are also automatically erected by the Massman. This eliminates the need for a worker to manually shove the bundles into the cases.
"We ran a five-person crew, and now we run a four-person crew," says Leland. "The new machine eliminated one person per shift, and we run four shifts on that particular machine per week. From a labor standpoint, the Massman saves us about $46,000 a shift per year."
The arrival of the Massman system has brought opportunities for other savings, as well, says Leland. "Before, when a case erector went down, we had people manually lifting cases, hand-gluing the ends together, and stuffing the bundles of 25," he says. "That added a minimum of two people to that line, so you're looking at a $40 to $50 an hour penalty during the time that case erector was down." The old case erectors went down quite often, admits Leland. The Massman system, on the other hand, has been a model of reliability.
Flexibility
Another important benefit of the Massman system is its ability to run either a wraparound or a knocked-down case that has a glued manufacturer's joint. "The old case erectors still in use on other lines require a case that already has a manufacturer's joint," says Leland. The company had to use a specialty gluer machine to fold cases and give them a manufacturer's joint before feeding them into the old case erectors.
Using the wraparound feature, the Massman wraps a case blank around the bundles of 25 custom corrugated containers. The machine then glues the joints together and glues the flaps down. "With the new machine, we don't have to use the specialty gluer if we choose not to," says Leland. "We can feed flat case blanks into the Massman and take advantage of its wraparound case packing abilities. Or we can choose to feed a knocked-down blank that has a manufacturer's joint. It's brought us a lot of flexibility."
In addition to opening up capacity on existing specialty gluers, the Massman's wraparound feature has resulted in further labor savings. "A single order for this particular customer requires us to glue 2,400 corrugated cases," says Leland. "Before, that would take about 15 to 20 minutes on a specialty folder/gluer, which requires a crew of four people. That's about $22 of saved labor per order, not to mention now the specialty gluer is freed up to run something else for 20 minutes."
New folder/gluer
Although the Massman freed up Alliance Packaging's specialty gluers, the company still needed to upgrade its folder/gluer capabilities to keep up with increased line speeds. So the firm installed a new Western Express 60-C folder/gluer from Western Slope Industries (www.wslope.com). The machine can handle corrugated blanks up to 60 inches in width at speeds of up to 12,000 blanks/hr.
After printed die-cut corrugated blanks are fed into the folder/gluer, the machine applies self-adhesive tape to the corrugated and turns it 90 degrees. Then it applies glue to the fourth panel and seals it. After the finished custom corrugated container exits the folder/gluer, it is accumulated into a bundle of 25 and the bundle moves along a series of conveyors to the Massman system. Both the Massman system and the folder/gluer are part of an investment in a new production line for the same customer. "We secured a large account under contract for several years and decided to put in a new high-speed manufacturing line for this particular product," says Leland. "With our old manufacturing line, we couldn't manage much more than about four bundles of 25 products per minute. Now we're in the range of seven-plus."
The numbers speak for themselves. With the new Massman system and the Western Express folder-gluer, Alliance can easily keep up with line speeds that are almost double the company's previous line speeds. Because the new casing system is so efficient, the company is looking at feeding a second manufacturing line used almost exclusively for the same customer into the Massman machine. "Reorganizing those production lines to feed two machines into a single case packer will reduce our labor dramatically," he says.
Companies in this article