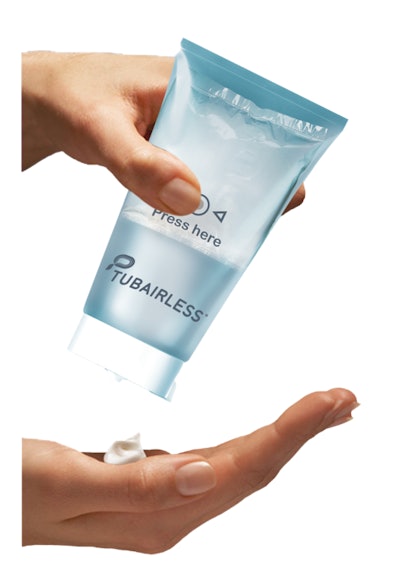 Packaging is ever-evolving. Done right, such developments are exciting and beneficial to consumers. PumpArt System's Tubairless packaging for example exemplifies packaging that pleases consumers.
The packaging also turned heads at Dow, as it was named a Diamond Award Finalist.

Also known as Tubeasy, Tubairless is better described as hybrid packaging that bridges the gap between a squeezable tube, a soft pouch, and an airless pump bottle. Essentially, it's a three-component package, consisting of tube, pouch, and closure.

"Tubairless is a 'bag-in-squeezable-tube' technology," explains Xavier Sutty, PumpArt System CEO. "The bag acts like an integrated soft piston and as a 'cocoon' for the cream [product]. The challenge is to assemble a very soft plastic pouch inside a squeezable tube, at a precise position while ensuring tightness."

The packaging uses a vent hole in the middle of the sleeve and integrates an internal flexible pouch. Manufacturing Tubairless can be done either inline through the tube-making process, or offline, says Sutty, who prefers not to divulge assembly process details.

The tube and pouch are polyethylene-based and may be manufactured in monolayer or multilayer versions. Post-consumer or bio-based resins can be used. Sutty notes that any traditional tube decoration process works for Tubairless as well, including offset, silkscreen, flexo, digital, and hot-stamp printing.

Because of its integrated piston, Tubairless is said to deliver upwards of 95% of the product effortlessly, eliminating the need to twist, crush, flatten, or cut a squeezable tube to evacuate all of the product. The company says Tubairless enhances natural ingredient preservation, easily dispenses viscous creams, controls the flow and size of each dose, and retains the shape, aesthetics, and ergonomics of the tube.

When it comes to sustainability advantages, Tubairless is designed to be 50% lighter than traditional airless pump packaging because the pump is replaced with the lightweight PE pouch within the tube. The package is also said to reduce product waste by 80% compared to a traditional plastic tube. Tubairless is 100% recyclable as monolayer PE.

Pumpart System indicates that it can provide three versions—or levels—of Tubairless:

• A finished package that includes the tube, pouch system, and closure

• Services to transform traditional tubes into the Tubairless

• Licensing to allow customers to produce their own Tubairless via specific machinery recommended by the company

The package is suitable for masks, balms, exfoliators, toothpaste, haircare gels and conditioners, hand creams, and sunscreens. Filling is done through the neck, with the bottom sealed. Filling can be completed on standard lines for bottles, tottles, or jars. Watch videos of the process.

The current Tubairless version was launched in 2015. Since then, the process, machines, and materials have changed, Sutty says. "Over time, the process has been streamlined, integrated, and automated. Multilayer, PCR-based and bio-based resin options were also added," he explains.

Customers using Tubariless are primarily located in Europe and in the U.S. Many of the brands that have adopted Tubairless packaging are identified on the company's website, complete with brand owner complements. These include Chantecaille's Bebe body lotions and facial creams, Ozalys' dermo-cosmetic products for women affected by breast cancer, and Lady Green skincare products for young women.