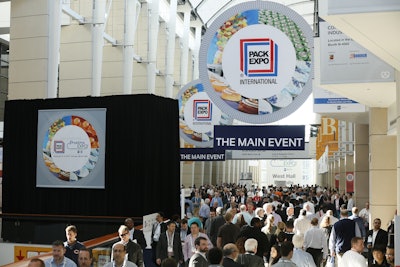 Ready to tackle your next packaging challenge? Sometimes you have to step outside the office to see new technologies in action. There's nowhere better than the biggest event of the year for the packaging sector, Healthcare Packaging EXPO, co-located with PACK EXPO International, taking place at Chicago's McCormick Place from October 14 to 17.
Produced by PMMI, The Association for Packaging and Processing Technologies, Healthcare Packaging EXPO returns in full force with packaging innovation for pharmaceutical, biotech and medical device manufacturers. Also making its return this year is the Packaging & Processing Hall of Fame, after a four-year hiatus, to honor new inductees.
These combined events will bring together 2,500 exhibitors showcasing their processing and packaging innovations to 50,000 attendees in more than 1.2 million net sq ft of exhibit space.
The world market for pharmaceutical packaging is forecast to grow 4.1% through 2021, faster than any other packaging segment, according to PMMI's Global Trends Impacting the Market for Packaging Machinery 2018 report.
Another recent PMMI white paper, Five Factors Spur Growth in Pharmaceutical Packaging and Processing Equipment, notes that innovation will be required, as the need for easy-to-open packaging is growing. Global pharmaceutical spending will continue to rise, with brand spending forecasted to reach between $815-832 billion in 2021, and global generic spending expected to surpass $500 billion by 2021.
Healthcare Packaging EXPO offers the widest range of packaging technology solutions–including equipment, product and service providers, logistics suppliers and contract manufacturers–for pharmaceutical and medical device manufacturers in North America.
Solutions spanning the supply chain addressed at the show include:
Automation

Continuous processing

Cleaning and sterilization

Cold chain logistics

Commissioning

Qualification and validation

Dose processing

Quality control

Track and trace
In addition to the technology on display on the show, Healthcare Packaging EXPO will offer considerable educational and networking opportunities, as well as industry-specific events:
Healthcare Packaging magazine will host a networking reception in booth W-300 on Tuesday, Oct. 16, from 3:30-5:00 p.m.

The Packaging & Processing Women's Leadership Network (PPWLN) once again hosts a networking breakfast and conversation with industry leaders on Tuesday, Oct. 16 from 7:30-9:00 a.m. (Room E-450).

The Technology Excellence Awards will debut this year at the show, recognizing exhibitors' innovative technologies that have not been shown at a previous PACK EXPO event. Voting will take place live starting Sunday, October 14 at 9:00 a.m. and go through noon on Tuesday, Oct. 16 at PACK EXPO International and Healthcare Packaging EXPO 2018.

Forum sessions are free, unique, interactive learning sessions throughout PACK EXPO International. The Forum will feature 45-minute open sessions on the latest industry trends by the OpX Leadership Network, World Packaging Organisation, Institute of Packaging Professionals, Contract Packagers Association, and PMMI Business Intelligence. Sessions are open to all registered attendees and will be held on all four days of the show (North Hall, Booth N-4580).

PACK gives Back™, sponsored by Rockwell Automation, will feature the hometown comic success story, Sebastian Maniscalco. Serving as an entertaining and exciting event to network and unwind on Monday, Oct. 15, the proceeds for the annual benefit will go toward the PACK EXPO Scholarship, which supports students studying at two-or four-year PMMI partner schools. Tickets are $75 (the tenth ticket is free after purchasing nine).

The Amazing Packaging Race allows participating students to make their way around the vast 1.2 million net sq ft of show floor space to complete a series of tasks assigned by exhibitors, fostering engagement and education while having fun.
Innovation stages
Healthcare Packaging EXPO will host its Innovation Stage in the West Building, Booth W-320, addressing innovations including electronic labeling for clinical studies, asset utilization, and small scale, high flexibility, potent/toxic applications.
PACK EXPO International will also feature three stages (North Building, Booths N-4560, N-4570, and N-4580). To date, nearly 50 sessions are confirmed between the two shows, all 30 minutes in length and free to attend. The full session schedule will also be accessible through the PACK EXPO International/Healthcare Packaging EXPO mobile app.
Register
Show registration, which includes access to both PACK EXPO International and Healthcare Packaging EXPO, is $100. For more information and to register online, visit packexpointernational.com or hcpechicago.com.
Get the app!
Be sure to download the free PACK EXPO International Mobile App, ready for OsX or Android, to navigate both shows like a pro. It will allow you to look up exhibitors, products, and educational sessions or create and save a personal agenda of what you want to see and do. You can navigate from booth to booth with the interactive map, or get news and notifications about demos, giveaways, and more. Access your agenda anywhere, at dinner, at your hotel or on the floor. Download the app for free at http://hcpgo.to/339.
Pavilions at PACK EXPO
Pavilions, including the following, help attendees and exhibitors narrow their focus on certain areas of interest while limiting their walking throughout the show.
PACKage Printing Pavilion: One of the most impactful emerging sets of technologies in packaging has been digital printing. In light of the recent advances—and the massive opportunity they may present to packagers dealing with SKU proliferation and customization—PACK EXPO debuts the PACKage Printing Pavilion.
The Reusable Packaging Pavilion: As demand rises for sustainable packaging, the Reusable Packaging Pavilion, sponsored by the Reusable Packaging Association (RPA), is a hotspot for reusable products, services, and solutions for increasing sustainability across the supply chain, including healthcare distribution.
The Containers and Materials Pavilion: This year's Containers and Materials Pavilion will address the latest innovations in paperboard, glass, metal, and plastic. Flexible and resealable packaging options will also be on display as well as innovative containers and sustainable choices. The Pavilion will also feature the Showcase of Packaging Innovations®, sponsored by The Dow Chemical Company, where visitors can view the award-nominated packages.
Companies in this article