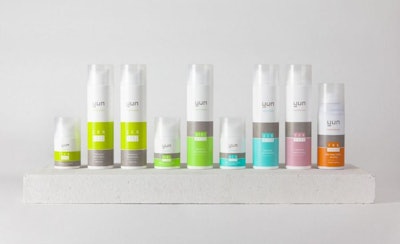 Probiotic specialist Yun Probiotherapy is using the Magic Star airless dispenser and Vario overcap from RPC Bramlage for its range of unique treatments for personal care and for common to more severe skin concerns.
Yun's scientifically-tested formula relies on good bacteria to fight off bacterial and fungal imbalances and boost the skin's natural protective bacterial shield. The products are free from regular preservatives and emulsifiers and therefore require a packaging solution that keeps them protected and in premium condition until required.
The injection-molded polypropylene Magic Star dispensers in 50- and 200-mL sizes provide a mix of functionality and style, combining effective protection of the contents with reliable, accurate, and controlled dispensing. The design also ensures that the dispenser can continue to operate smoothly, even if air is trapped in the container.
For Yun's packaging, the dispensers are decorated with a self-adhesive label, with three colored bands. The top grey and white layers are consistent throughout the range, in keeping with the Yun branding, while the bottom layer is color-coded for the different treatments in the range. The stylish, clear Vario overcap completes the family look for an eye-catching premium presentation on-shelf.
Magic Star airless systems can handle products of many different viscosities, making them suitable for the personal care, cosmetics, and pharmaceutical applications. The modular construction, with separate body and dispensing head, allows easy filling while enabling each pack to be tailored to specific requirements.
Companies in this article