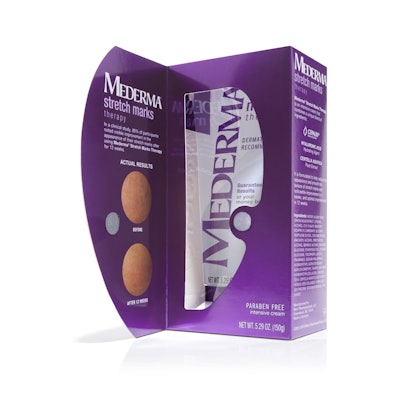 The Mederma® family of skin care products for scars and stretch marks is produced by Merz Pharmaceuticals, LLC, part of the Merz Group of companies whose areas of therapeutic focus include neurology, dermatology, and podiatry.
Mederma Stretch Marks Therapy's upgraded packaging is lighting up retail shelves and addressing major retail challenges thanks to its branding partner, Little Big Brands.
The hurdles necessary to overcome for the package redesign were daunting. The Mederma Stretch Marks Therapy has one retail facing, and that's usually on the bottom shelf, among a disparate array of skin care products. The product's $40 price tag is higher than most drugstore products, which earns it security devices in some stores.
The project kicked off with a robust structure exploratory with the goal of keeping the product's current footprint and material costs, while working harder to catch the consumer's eye, again, not an easy task given lower shelving, poor lighting, and basic paperboard substrates. It also had to better educate the consumer, while justifying its purchase price.
Several substrate choices, tube display features and windows were explored, which help tell the product story at shelf.
From there, structural refinement was "parallel-pathed" alongside the graphic design exploration. A range of concepts were explored to help the pack stand out on the shelf and give the brand an ownable point of difference as well as much stronger, more recognizable branding.
Several lead contenders were then taken into qualitative testing in Chicago, New York, and Los Angeles with very strong results favoring the redesign. Quantitative testing confirmed the findings and helped fine-tune the chosen design.
"We needed major impact and a huge step forward in terms of perceived quality," says John Nunziato, creative director, Little Big Brands. "From custom structure to material and process upgrades, to bold new branding and graphics, every inch of this package was carefully crafted."
The winning design delivers on all levels, with the new structure providing a canvas for much stronger branding. The front panel is a flap that opens to reveal the tube inside and provides valuable space to educate consumers on product benefits. The curved panel shape is a subtle nod to the female silhouette, as women are the primary consumers for the brand. Special attention was given to structure integrity (both the outer and inner tube), and easy access to the product while protecting secondary packaging from tampering at store.
Graphically, the redesign features easily identifiable branding on the front, side, and top to capture consumers at every angle. A bright magenta was selected to add vibrancy when placed on lower store shelves and foil board was selected that uses a high concentration of white to address recessiveness. The front panel and tube incorporate fading silver graphics to mimic the smoothing product claims.
When opened, the front flap reveals the tube inside and highlights before/after photography as well as clinical trial results. It is easily kept closed by a small
Velcro disc. Logos on the carton were embossed on top, front, and side to add extra dimension, depth, and reinforce the premium look and feel.
"We have a fantastic product that was often overlooked on shelf because its aesthetic was so quiet," says Jessica Wright, associate director of OTC
Marketing at Merz. "The redesign not only gave Mederma Stretch Marks Therapy a much more premium look, it also works better functionally for the consumer. And the best part--you literally cannot miss it!"
Companies in this article