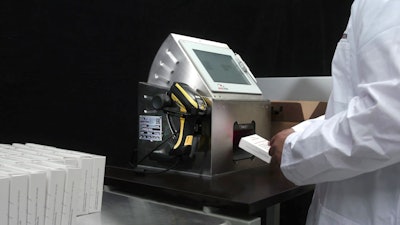 Antares Vision Group, global provider of intelligent track & trace, inspection and smart data management solutions for the life science, food & beverage, nutraceuticals and cosmetics sectors, will be showcasing a variety of hardware and software solutions at multiple booths during Pack Expo Las Vegas, September 27-29, 2021. Among other solutions, at Booth #6502 in the Healthcare Packaging Expo section, the company will offer live demonstrations of a new standalone module for manual aggregation. Ideal for small- to mid-sized production, the Mini Manual Station maximizes manual aggregation productivity and, among other benefits, efficiently supports post-lot reworking operations in warehouses and distribution centers.
Following the situation-specific recipe – for example, the number of cartons per case – the Mini Manual Station aggregation unit issues the upper level, "parent" container label once the preset quantity of items has been scanned into the system. The unit features an ergonomic design for easy, multi-point access and an always-on handheld scanner for fast, reliable code reading.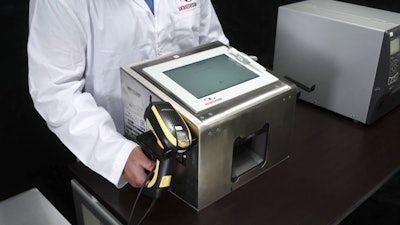 Both at its Healthcare Packaging Expo booth and main hall Booth #C-3938, Antares Vision Group will be demonstrating Track My Way. a next-generation track & trace platform providing dialogue between various stakeholders throughout a product's supply chain journey and lifecycle. The system protects production process and distribution channel transparency while providing increasingly sophisticated consumers with informative, reassuring sourcing information.  
Track My Way helps companies with high-value goods in a wide variety of sectors fight product diversion and counterfeiting, which continue to be critical concerns across numerous industries. The system was developed for a landscape where the value of brands depends not only on the benefits of its products, but also the assurance of safety and security companies can provide to their customers. The platform allows consumers to review certified information about the product origin, manufacturing process and distribution chain, offering the guarantee of integrity and authenticity.
Antares Vision Group also will demonstrate its AVionics solution, a comprehensive software tool designed to monitor equipment performance and efficiency throughout the production process. By tracking various key performance indicators (KPIs), AVionics streamlines data into a user-friendly dashboard for intuitive operator decision-making. Information collected from production and packaging lines can then be used to improve business processes at all levels – from line-level manufacturing through overarching, enterprise-level metrics development.
Other solutions featured at Pack Expo, in-person or via video presentation, include:
 

AV Print Inspector

is a newly enhanced, dedicated high-resolution vision system providing comprehensive inline layout inspection for webs and labels. Easily

integrated into new or existing labeling, printing or packaging machines, t

he new AVPI offers

100% inspection for the increasingly sophisticated, often print-on-demand applications common in modern product marking operations. The system provides

whole-label inspection at speeds up to 80 meters/minute, and supports all m

ajor vision system tools for seamless quality control across a wide array of layout features.

AV Slat View

provides 100% inspection of tablets & capsules bottled

 via slat filler.

The system inspects uncoated or coated tablets as well as mono and bi-color capsules. Compatible with a broad range of OEM slat filler brands, the turnkey, easily integrated unit offers simple setup and unlimited recipe storage. Equipped with an advanced color detection algorithm, the AV Slat View's complete validation package offers high accuracy and a low false reject rate. A configurable alarm that flags and rejects bottles with potential objects eliminates the need for line stoppage.

 

Antares Vision Group's

Print & Check EVO

is among the most widely used integrated solution on the market. Quick and easy to integrate into packaging lines, the unit occupies just 705mm of floor space as it prints and verifies on carton flaps. Upper and lower conveyors keep cartons stable for reliable printing and unsurpassed verification accuracy. The Print & Check EVO can handle cartons up to 120mm wide and 200mm in height at a maximum speed of 300 units per minute. It offers real-time management of relevant serialization data, including the construction of parent/child relationships at various packaging levels.

Antares Vision Group's GTS Plant Manager software generates or imports serialization numbers and stores all data while interfacing with Level 4 repositories. GTS Plant Manager comes preconfigured and ready to manage line serialization. As needs evolve, the scalable software can be expanded to manage additional lines and other communication layers.
The Top View Matrix Station aggregates cartons to a specific shipping case and prints unique shipping labels. The module's signature 19.6"x11.8" top-view reading window

employs cameras that automatically adjust to reading additional layers for faster throughput. The unit alerts operators to incorrect or already-picked barcodes and other defects to ensure a higher quality process, and an intuitive touch screen interface allows personnel to quickly change product and shipping information to accommodate customer orders. Semiautomatic operation gives warehouse and distribution operations the ability to cost-effectively go beyond the throughput limitations of manual loading and aggregation. 
Companies in this article