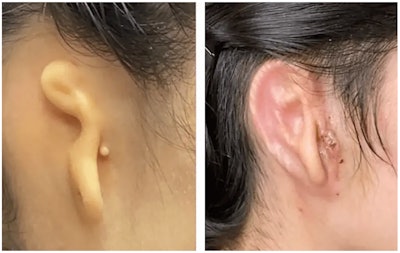 Microtia-Congenital Ear Institute
According to a recent ZME Science article, a team of doctors worked with regenerative medicine company 3DBio Therapeutics to conduct the first successful 3D-printed ear transplant. The recipient of the transplant had a condition known as microtia, which causes the underdevelopment or absence of one or both ears. Microtia is relatively rare with just 1,500 cases each year in the U.S. alone. Prior to now, the only other treatment options were grafts made of synthetic materials or ears created from tissue harvested from the patient's ribcage.
The new personalized tissue implant uses tissue from the patient's existing ear, from which cartilage cells are harvested. They are then multiplied in cultures and used as a bioink that is 3D-printed into the shape of a new ear and grafted onto the patient. The 3-D printed ears continue to regenerate cartilage over the patient's lifetime, which are unlikely to be rejected since they originated from the patient's body. The company hopes to next explore replacing other body parts like spinal discs, noses, knee menisci, etc. before moving on to more complex organs such as livers and kidneys.