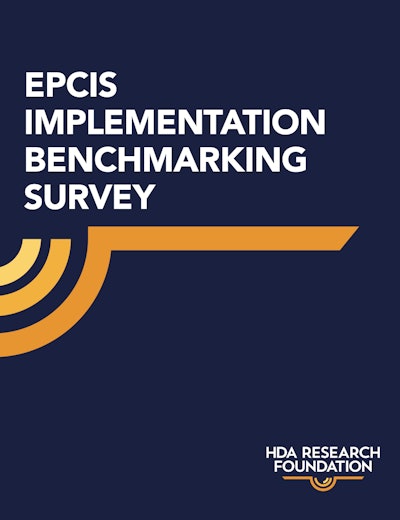 Updated survey data released by the HDA Research Foundation indicate that healthcare supply chain partners remain in the formative stages of establishing the interoperable transaction data connections required to comply with the Drug Supply Chain Security Act (DSCSA) by November 27, 2023. However, some progress has been made since a survey conducted last spring.
The foundation's latest EPCIS Implementation Benchmarking Survey assesses industry progress of adopting GS1 Electronic Product Code Information Services (EPCIS) and trading partner plans for sending data. EPCIS currently is the only widely recognized international standard that allows supply chain partners to share DSCSA-required data in a secure, electronic and interoperable manner. "The foundation's updated survey seeks to inform industry trading partners on the evolving status of successful data connections—those that are fully integrated and working in production," says Perry Fri, executive vice president, industry relations, membership & education, HDA; and COO of the HDA Research Foundation. "Clearly, industry stakeholders have made important decisions and progress since last spring, but establishing EPCIS connections remains a slow and complex process."

The survey reflects data collected in the fourth quarter of 2021, with responses across pharmaceutical supply chain stakeholders, including 40 manufacturers, 16 distributors, and four third-party logistics providers. Among the updates from the last survey:
Approximately 69% of manufacturers now plan to use a third party to connect—a seven-percentage-point increase from the previous survey. Respondents cite a range of challenges, including a "lack of guidance," delays due to FDA's past enforcement discretion and the perception by some that the agency will postpone the deadline, less than adequate employee resources and availability, and the ability to dedicate an IT team to test and implement EPCIS. (The FDA has stated publicly that it does not plan to extend enforcement discretion to the 2023 milestone.)
More distributors are connected to manufacturers in production environments. Just 38 percent have yet to connect (down from 58 percent in the previous survey) while more than two-thirds are in the process of connecting. "Lack of trading partner commitment" is noted to be the top hurdle to implementation.
A typical 3PL is working to connect 81 manufacturers. With an average of four successful connections today, 3PLs plan to have connections with 104 distributors once fully implemented. "Readiness of their clients to proceed" and "lack of resources or knowledge required to support a serialization implementation" and "upgrading warehouse management systems" are among the greatest challenges cited by this group.
One carryover from the previous survey is that no connections exist between distributors and dispensers today. Respondents noted that this lack of direct connections may be because many dispenser customers are planning to access a portal provided and maintained by the distributor. As indicated at HDA's recent Distribution Management Conference, dispensers likely will not connect until Q1 2023.
"Supply chain partners have their work cut out for them over the next six quarters. While we acknowledge that many manufacturers have made progress to exchange data via EPCIS, very few are sending it in production," says Justine Freisleben, vice president, industry relations, HDA. "With more companies relying on solution providers to connect, open lines of communication and coordination with distributors will be key—especially since a third-party connection adds a layer of complexity, and no dispensers are connected today. Reversing the perceived lack of trading partner commitment and resources also will be important to ensure the continued safety and reliability of the U.S. healthcare supply chain beyond 2023."
The HDA Research Foundation's EPCIS Implementation Benchmarking Survey, sponsored by AmerisourceBergen, Antares Vision Group, and LSPediA, is available as a complimentary download.
Subsequent surveys will be coordinated by HDA in collaboration with the EPCIS Center of Excellence (COE). The COE is a partnership between leading serialization service providers with the goal of accelerating progress and helping industry reach interoperability and 2023 compliance through adoption of standards.
Companies in this article