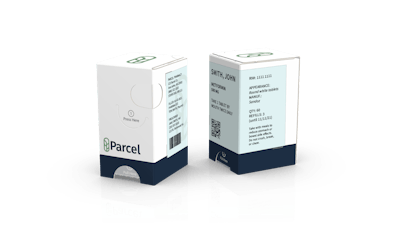 Parcel Health, a women-founded medication packaging startup focused on creating sustainable and functional prescription packaging, has launched its first pilot program. Ten independently owned pharmacies are now piloting Parcel Health's first product, the Phill Box, which is a recyclable, compostable, water-resistant, and easy-to-use alternative to plastic pill bottles.
"This is the next generation of medication packaging," says Kyle McCormick, PharmD of Blueberry Pharmacy in Pittsburgh. "It is a fantastic product that's leading the industry towards a sustainable future."
"Uptown Drugs is always interested in earth-friendly products and recycling," adds Chris Profitt, PharmD of Uptown Drug in Arizona. "We are very excited to participate in the pilot program."
The pilot pharmacies are located in 10 different cities across the East Coast, West Coast, South, and Midwest. Many of the pharmacies offer quick prescription transfer and free delivery, making the switch easy and convenient for patients.
"The healthcare industry is a very carbon-intensive service sector, representing 4% to 5% of global emissions. With 8 billion plastic pill bottles used in the United States every year, this will be one of the easiest ways for any healthcare provider to lower their carbon footprint," comments Melinda Lee, PharmD, the cofounder and CEO of Parcel Health. "The Phill Box is made with Forest Stewardship Council-certified sustainably sourced paper and requires 30% less carbon emissions to produce compared to plastic bottles. Every part of the Phill Box has been made and designed with care to the environment, patients, and pharmacies."
Pharmacies interested in using the Phill Box™ can apply to enroll in the next pilot program set for this summer.
Additional information about the program can be found on Parcel Health's website at https://www.parcelhealth.co/. Interested patients and pharmacists can also send inquiries to team@parcelhealth.co.
Companies in this article